Dodgers sale official
The $2 billion sale of the Dodgers from Frank McCourt to Guggenheim Baseball Management was completed on Tuesday.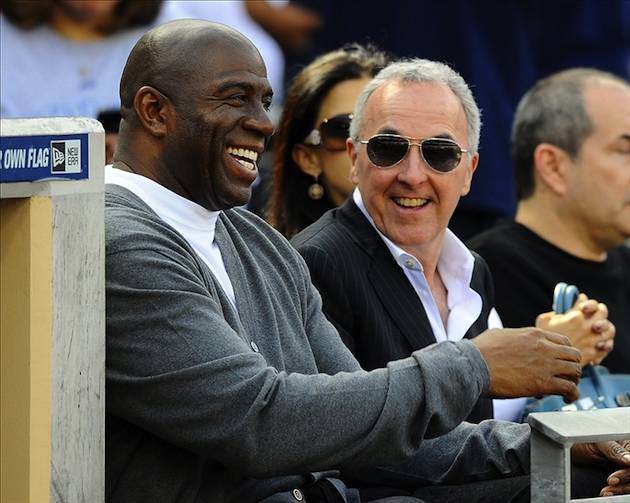 After a delay of a day, the Los Angles Dodgers are officially no longer owned by Frank McCourt. The  team announced the completion of the deal transferring ownership of the team to Guggenheim Baseball Management LLC, which includes Mark Walter, Magic Johnson and Stan Kasten.
From the team's release:
"The Dodgers emerge from the Chapter 11 reorganization process having achieved its objective of maximizing the value of the Dodgers through a successful Plan of Reorganization, under which all claims will be paid. The Dodgers move forward with confidence -- in a strong financial position; as a premier Major League Baseball franchise; and as an integral part of and representative of the Los Angeles community."
The release says the final price was $2 billion.
The new ownership group, including Walter, Johnson, and Kasten, along with other members of ownership and Los Angeles mayor Antonio Villaraigosa, will hold a press conference on Wednesday at 10 a.m. local time (1 p.m. ET). The press conference will be shown live on not just local TV, but also
MLB
Network, MLB.com and Dodgers.com.
Baseball commissioner Bud Selig released a statement on the sale:
"After a long and difficult road, the sale of the Dodgers is now complete, and I am pleased that the club can have the fresh start it deserves under new ownership.  I congratulate Mark Walter, Magic Johnson, Stan Kasten and all of their partners, and I look forward to working with them.  In addition, I want to personally thank all Dodger fans for their patience and loyalty during this trying period.  I have said many times that we owed it to them to ensure that the club was being operated properly and would be guided appropriately in the future.  It is my great hope and firm expectation that today's change in ownership marks the start of a new era for the Los Angeles Dodgers and that this historic franchise will once again make the city of Los Angeles proud.

"Despite going through bankruptcy court, this process required the same due diligence and analysis that any other sale would demand.  Through all the challenges of this highly unique situation, our requirements were met.  Ultimately, the sale produced a record figure in all of sports, illustrating the strength of our industry.

"The 2012 season is off to a remarkable start.  As we welcome the new stewards of the Dodgers, I am grateful that the unbecoming events of recent years are behind us and the focus can be squarely on the field, where the Dodgers currently hold the best record in the National League."
In the end, for most Dodger fans, the most important thing is Frank McCourt is out. After that it's just happy details.
For more baseball news, rumors and analysis, follow @EyeOnBaseball on Twitter, subscribe to the RSS feed and "like" us on Facebook.