Dodgers ticket sales are ridiculous, per Stan Kasten
The Dodgers have already sold over 3,000,000 tickets this season and are set to sell 35,000 season tickets.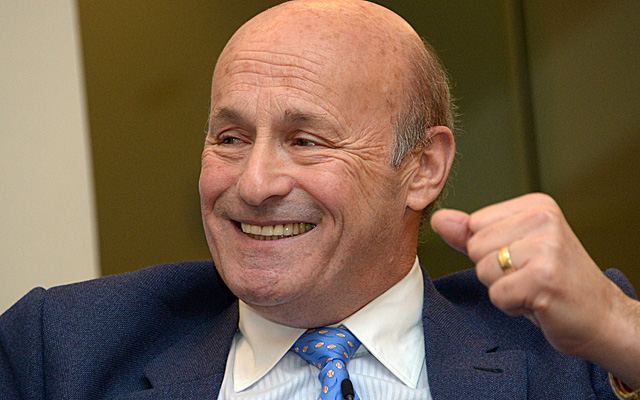 MORE: Predictions | Spring Training | Scoreboard | Team previews
After storming back from a terrible start to win the NL West going away in 2013 -- not to mention coming within two games of the World Series -- it's far from shocking that Dodgers fans are excited for the 2014 season.
And, boy, are they excited. The demand for tickets is through the roof, according to club president and part-owner Stan Kasten, who spoke to media members Thursday night.
Among the highlights:
Kasten: #Dodgers to sell about 35,000 season tickets this year.

— Bill Shaikin (@BillShaikin) March 27, 2014
Kasten: #Dodgers have sold 3 million tickets already this season, a week before home opener.

— Bill Shaikin (@BillShaikin) March 27, 2014
So let's grab some perspective on those figures.
First, the season tickets.
Dodger Stadium seats around 56,000, so the 35,000 season ticket figure would mean that the Dodgers were able to sell 62.5 percent of capacity to ticket-holders at an 81-game commitment.
Or how about this: Only seven teams in all of baseball -- aside from the Dodgers -- averaged more than 35,000 fans a game (Cardinals, Giants, Yankees, Rangers, Tigers, Angels and Phillies). Every other ballclub averaged fewer fans per game than the Dodgers will have sold season tickets this season. Eight teams didn't even average half that. 
On the three million mark in tickets for the season, only eight teams hit that figure all year in 2013 -- again, the Dodgers and the seven teams listed above. The other 22 teams failed to sell three million tickets all season and the Dodgers have already done so this season, a week before the first game in Dodger Stadium. Eight teams -- the A's, White Sox, Mariners, Royals, Astros, Indians, Marlins and Rays -- didn't even draw two million.
Staggering.
Show Comments
Hide Comments