Dodgers' Yasiel Puig plans to dial it back in 2014
After being criticized for his style of play in 2013, Dodgers outfielder Yasiel Puig plans to scale things back this season.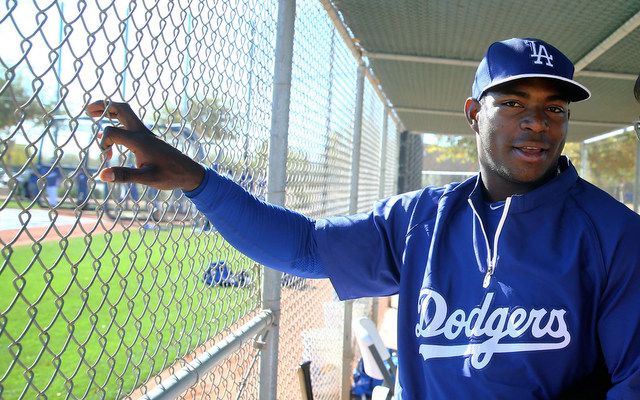 MORE: FA tracker: position players | FA tracker: pitchers
Yasiel Puig's debut last summer was a lot of things, most notably exciting and polarizing. An awful lot of people didn't like his enthusiastic and occasionally reckless style of play. Overthrown cutoff men and getting picked off rubs people the wrong way.
In his second year with the Dodgers, Puig plans on dialing things down a little bit even though he told Dylan Hernandez of the Los Angeles Times that "fans go to the stadium to enjoy themselves ... After work, they spend their free time watching us play. We have to do our best to entertain them."
Here's more from Hernandez:
However, Puig also acknowledges he has to be more restrained on the field, admitting he has to be smarter on the bases and learn when to hit the cutoff man rather than throw directly to the plate from right field.

...

"To me, in order to be a bona fide superstar, you have to learn to slow the game down," hitting coach Mark McGwire said.

Manager Don Mattingly is hopeful this camp will provide Puig with that opportunity.

"It gives us an extended period of time where there aren't games on the line and we can continue to talk about different things," Mattingly said.
Personally, I've never liked the whole "play the game the right way" or "act like you've been there before" mentality. It's boring. There is enough time to be serious about life outside of baseball. Puig is one of the most exciting players in the world and I'll be disappointed if he tones it down.
That said, improving fundamentals is a good thing. Throwing to the right base and running the bases more intelligently are things Puig and Dodgers should definitely work on. But this:
That is everything I want baseball to be.
Show Comments
Hide Comments
Our Latest Stories
On this date in 2001, Randy Johnson inadvertently hit a bird with a spring training fastba...

Giants southpaw Will Smith likely needs Tommy John surgery

It's unclear whether Kang will be join the Pirates at all in 2017
Can the reigning NL East champs take home the flag again?

Valencia has been considered a platoon player for much of his career

Jones said USA used Puerto Rico championship shirts and parade plans as motivation for the...