Dodgers' Zack Greinke breaks left collarbone in brawl
Dodgers starting pitcher Zack Greinke sustained a broken left collarbone in the Dodgers-Padres brawl on Thursday night.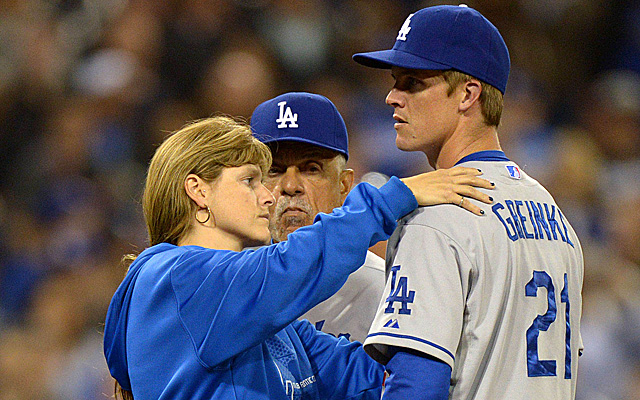 More MLB: Scoreboard | Standings | Probable Pitchers | Sortable Stats | Odds
After Dodgers starting pitcher Zack Greinke hit Padres outfielder Carlos Quentin with a pitch on Thursday night, Quentin charged Greinke and a brawl broke out. And it's going to cost Greinke and the Dodgers dearly.
Greinke has a broken left collarbone, the Dodgers revealed after the game. No immediate timetable was given but, generally speaking, that's an injury that will cost a player a few months. So Greinke should miss a large chunk of the first half of the season.
If we could be so bold to speculate, the initial contact between Greinke and a much-larger Quentin would be a good guess as to when Greinke sustained the injury. And Dodgers manager Don Mattingly was not happy, to say the least.
"Their guy charges the mound being an idiot, and our guy's out for however long," he said (via Tim Brown of Yahoo Sports). "And their guy'll probably be playing in three days. It's a joke."
The hit-by-pitch in question happened with a 3-2 count on Quentin with the Dodgers leading 2-1 in the bottom of the sixth inning.
"That shows zero understanding of the game of the baseball," Mattingly said (via Bill Plunkett of the OC Register). "He's not throwing at him at 3-2 in a 2-1 game."
Greinke, 29, is 1-0 with a 1.59 ERA through two starts in the 2013 season. He signed a six-year, $159 million contract with the Dodgers this past offseason.
If the Dodgers can take solace in anything here, it's that they have starting pitching depth. Ace Clayton Kershaw sits at the top, now followed by Hyun-Jin Ryu, Josh Beckett and Chad Billingsley. The fifth spot could be filled with Chris Capuano -- who took over for Greinke on Thursday evening -- or Ted Lilly, once he's healthy.
Still, Capuano or Lilly is a big step down from what Greinke's capable of producing on a regular basis, so this obviously hurts the Dodgers.
Oh, by the way, the next series between the Dodgers and Padres will start Monday at Dodger Stadium.