Don Mattingly, Dodgers part ways
Don Mattingly is out as manager.
CHICAGO -- Don Mattingly and the Dodgers will part ways, sources tell CBS Sports.
The decision is being described as mutual.
Dodgers higher-ups like Mattingly very much, but it was apparent there wasn't support for the long term. Word is Mattingly felt he was treated very well by baseball president Andrew Friedman and others, but the sides ultimately decided it was better to move on.
UPDATE: The Dodgers made an official announcement Thursday afternoon.
The Dodgers and Don Mattingly have mutually agreed that Mattingly will not return to manage the club in 2016. pic.twitter.com/60xujjrob6

— Los Angeles Dodgers (@Dodgers) October 22, 2015
Mattingly won three consecutive division titles with the Dodgers, becoming the first Dodgers manager ever to do that and also make the playoffs in three straight. But Mattingly bore the heavy burden of outsized expectations.
People frequently repeated that the Dodgers hade a record $300 million payroll, adding to the hype and expectation. But the reality is that figure included many players no longer with the team including Matt Kemp, Brian Wilson, Dan Haren and many, many others, and the Dodgers' front office never adequately replaced starting pitchers Hyun-Jin Ryu and Brandon McCarthy when they went down early with season-ending injuries.
The Marlins are known to have interest in Mattingly, and there are three other jobs open, as well. Mattingly wants to keep managing.
The Marlins could offer Mattingly an opportunity for more authority than he had in L.A., which was little. The Nationals have shown interest in Mattingly in the past but they seem a lot further down the road with their managerial search.
Word was getting around during the year that Mattingly might need to get out of the first round or perhaps even get to the World Series to spare his job, and it turns out the first-round elimination probably didn't help him, though the Dodgers lost a decisive Game 5 by just 3-2 to the Mets, who look like a juggernaut at the moment.
One Dodgers higherup, after three days of discussing Mattingly's future, said the decisionmakers were still "ruminating" what seemed like a tough call for them. There were points at which it appeared he had a very good chance to return.
Mattingly scored very high marks with the Dodgers brass for his handling of several tricky situations, including what to do with Andre Ethier, who looked like an odd man out in the outfield in spring training, plus how to handle the catching and shortstop positions. He's been seen as a major clubhouse plus, and Dodgers people figure that's the most important part of today's managing job. But there has been a spotlight on his strategies, and he might have suffered from over-analyzation.
Dodgers ownership, led by Mark Walter, have been said to be supporters of Mattingly for years. But folks have wondered what the call would be since Friedman didn't hire Mattingly. As it turned out Mattingly and Friedman got along famously.
The front office never adequately solved the issue of who'll start behind aces Clayton Kershaw and Zack Greinke in the Nos. 3 and 4 spots in the rotation, nor who would enhance a bullpen where closer Kenley Jansen remained the one consistently successful performer. Bullpen underperformance hurt them the previous year, as well.
Mattingly's contract ran through 2016 so he will be paid by the Dodgers for one more year, depending on whether he lands elsewhere.
Mattingly has been the Dodgers manager for five years, since taking over for his friend Joe Torre. He had a 446-363 (.551) record as manager in LA.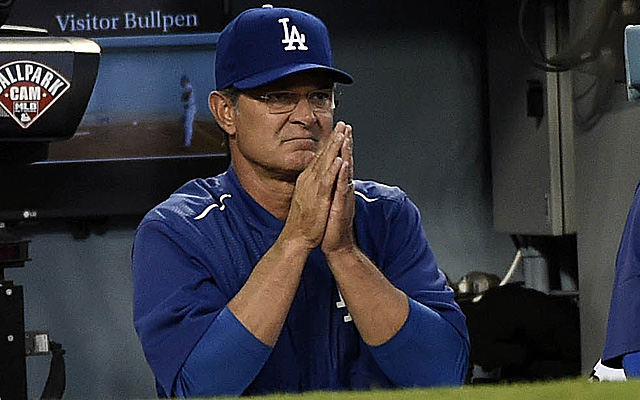 Show Comments
Hide Comments
Our Latest Stories
Matz is heading for another checkup on his troublesome shoulder

Ramos has had a huge breakout season in 2016. Losing him would be a devastating loss for the...

In the previous five times they've won 100 games, the Cubs won the World Series just once
The Marlins made one final tribute to Jose Fernandez following Monday's game

Here's a look at the postseason race standings with seven days left in the regular season

The Indians are without two starting pitchers, a starting outfielder, and their starting c...