Don't look now, but here come the improved Royals
Having gained a stunning 8 1/2 games in 18 days in the AL wild-card race, the Royals are just two games out and climbing the chart.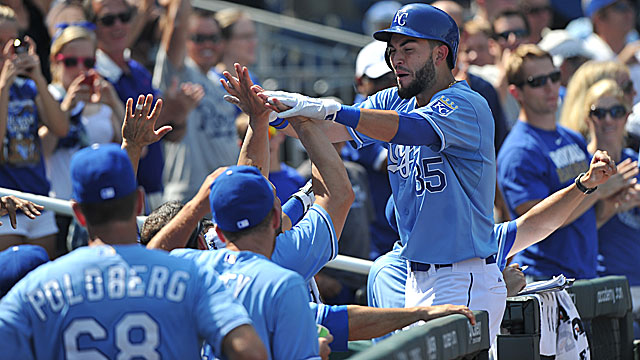 As if the Pirates standing squarely in the September spotlight isn't enough ... now we have the Kansas City Royals shoving their way toward center stage?
So the Royals didn't win on Thursday ... but only because they didn't play.
Following a 44-games-in-44-days run in which they went 26-18 and climbed to within two games of an American League wild card slot, Ned Yost's club rested on the 45th day.
Oh, and the Royals shuffled their rotation to line up Bruce Chen , Ervin Santana and Jeremy Guthrie to face the Tigers this weekend in Kansas City's latest key series.
Now the last time the Royals messed around with their September rotation for potential playoff series purposes was ... quick, someone go locate Amos Otis or Frank White and ask them.
The party line is that the Royals want to give a blow to Danny Duffy , who returned from Tommy John ligament transfer surgery in June.
But, as Yost told reporters the other day, it also "allows us to have James Shields available for a playoff game [as] another reason you do it, too."
Good move. Because strange things are happening in this crazier-by-the-day AL wild-card scramble, and you never know.
No team in the majors currently has a longer playoff drought than the Royals -- no, not even Pittsburgh -- so when the Royals are two games back with just 16 remaining, you bet it qualifies as Stop The Presses news. Or, at least, Quick Capture a Screen Shot from the Internet.
"We're encouraged," Royals general manager Dayton Moore said during a Thursday afternoon telephone conversation. "It's been a season of growth for us, that's for certain. But you don't get many opportunities like this. We certainly haven't been able to enjoy them here in Kansas City, so you want to make sure you take advantage of it.
"It's going to be a tough challenge. There are four teams ahead of us, and a lot of things have to fall right. We just have to focus on what we do and win."
The Royals have not been to the playoffs since 1985. Each series now becomes, as the Kansas City Star referred to one this week, the biggest in a generation.
What the Royals have done especially well this year is pitch, and that traces a direct line back to last winter's controversial Wil Myers trade. The Royals received James Shields, who beat Cleveland on Wednesday, and Wade Davis from the Rays in return.
Shields has gone 11-9 with a 3.38 ERA in 207 2/3 innings pitched. Luke Hochevar has bounced to the bullpen and recreated himself as a shutdown setup man: 1.70 ERA over 51 games and 63 2/3 innings, 72 strikeouts, 16 walks, 35 hits and an 0.81 WHIP.
This from a guy who last season allowed more runs than any major-league pitcher (127).
Nine months after the Myers trade, Moore is more sure than ever that it was the right thing to do.
"We had to improve our pitching," the GM said. "It was one of the worst pitching staffs in baseball. One of the worst in Royals history. We had to improve.
"The truth of the matter is that if we want Salvador Perez , Mike Moustakas , Eric Hosmer , Alex Gordon , Billy Butler and Alcides Escobar to turn into the players that we envision, we've got to start playing meaningful games. For those guys to grow as players, there needs to be focus on the team and not them individually.
"When teams lose and the focus becomes the individual players, the players focus on themselves and what they have to do to get their numbers. When you focus on the team and what the team has to do, that's how the player gets better. When they focus on themselves and become frustrated, they take the failures harder.
"When you focus on the team, a funny thing happens. In my opinion, when the focus is the team and winning baseball, players, that's when they turn into stars. I didn't believe, and I still don't believe, that the young players we have [reach their potential] unless we have a quality team playing meaningful baseball. The concentration improves then."
No question, concentration-wise, these Royals are on high-alert right now, believing they can find a path that leads to October.
That not only is no small achievement for this organization, but also for a team that lost 19 of 23 games during one brutal May stretch, skidded into the All-Star break with five consecutive losses and then suffered a seven-game losing streak in August.
That's where Moore's "season of growth" phrase comes in. And among many other facets, that these Royals have continually battled back from losing streaks is a testament to Yost, too.
"Ned has been very consistent with his leadership, extremely positive, at times almost defensive of the team and the players -- in a good way," Moore said. "He tried to take the pressure off of the players the best he could when the team was struggling. I think he's done a super job of leading.
"He comes to win and compete every day. That's Ned Yost. He's a competitor."
More than once -- from the outside, at least -- Yost's job has come into question during the losing streaks. Largely, because his contract is up after this season.
But while the Royals still have made no promises for the future, Yost is expected to return. He's certainly earned it -- though Moore understandably is more focused on the season than on Yost's future right now.
"The Glasses and I sit down every year at the end of the year and talk about the staff," Moore said. "I believe Dan and Mr. Glass [owner David], along with myself, are very pleased with the job Ned has done. But it's something where we'll sit down and talk at the end of the season.
"Right now, our focus is on trying to do the best we can each and every night. That's Ned's focus, too."
There are two ways to read the Royals' remaining schedule. One is, it's tough, with the Tigers in Detroit this weekend, three against the Indians in Kansas City beginning on Monday and then three with the Rangers at home beginning next Friday.
On the other hand. ...
"It's good, though," Moore said. "As poorly as we played in May, the schedule benefits us, I think. Texas is in front of us. Cleveland, Detroit ... you couldn't ask for anything better.
"It doesn't matter who you play, you've got to do a lot of things well to win a major-league ballgame."
Nobody has lived that over the past 28 years more than the Royals. And now that they're finally doing so many more things well ... well, who knows? Over at coolstandings.com, the Royals' playoff chances are up to 15.7 percent.
The Royals trailed the Rays by 10½ games in the wild-card standings on Aug. 24. They've now made up 8½ games in 18 days. And counting.
Show Comments
Hide Comments