Don't sleep on the Brewers in 2014
Fresh off the signing of Matt Garza, the Brewers have many reasons to be optimistic for the 2014 season.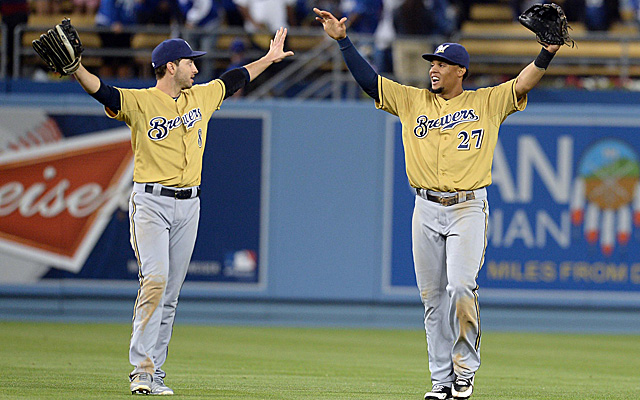 MORE: FA tracker: position players | FA tracker: pitchers
The 2013 season in the NL Central produced three playoff teams, one team continuing its massive rebuild phase and the disaster that was the Milwaukee Brewers .
The Brewers finished 74-88, their worst record since 2004, but the record itself didn't do justice to the problems endured during the season. There were injuries, underperformance, a black hole at first base, Yovani Gallardo 's DUI and, of course, the suspension of superstar Ryan Braun .
The season wasn't without positives, as Carlos Gomez flashed his star potential and Jean Segura emerged as a very good shortstop. Scooter Gennett also showed promise in replacing the shell of Rickie Weeks (his decline is mind-boggling, isn't it?) at second while Khris Davis was very productive in his time in the bigs. 
And now with the signing of Matt Garza official, the Brewers have lots of reasons to optimism heading into 2014. Let's first look at the offense.
To me, the following statements are reasonable:
- A full season of Ryan Braun provides a huge boost.
- A full season of Aramis Ramirez provides a sizeable boost as well. He was limited to 92 games last year but was still productive (125 OPS+).
- Segura and Gomez can sustain their success from last season.
- Davis and Gennett will deal with growing pains, for sure, but a full season from each provides an upgrade (in this case, we'd be saying Davis is an upgrade over Nori Aoki , as Ryan Braun moves from LF to RF).
- Jonathan Lucroy will continue to be an above-average offensive catcher.
- Brewers first basemen last season hit .206/.259/.370 with 171 strikeouts and 38 walks. Last season in the AL, Mark Reynolds hit .220/.306/.393 with 154 strikeouts and 51 walks. In switching back to the NL, Reynolds will improve on a line that was already superior to what the Brewers got from first last year. Just expect a low batting average and lots of strikeouts with around 30 homers if he wins full-time playing time. And I believe he will.
This was an offense that ranked eighth in the NL in runs, sixth in average and 10th in on-base percentage last season. If most of the statements above -- which, again, I believe are very reasonable -- ring true, the Brewers have an above-average NL offense. Maybe even top five.
As for the starting rotation, the Brewers appear to be lacking an ace-caliber pitcher, but there's good potential. Kyle Lohse is certainly a quality starter and Matt Garza should produce similarly to what he did in his time with the Chicago Cubs . The duo forms an admirable 2-3 in a good team's rotation.
Wily Peralta and Marco Estrada should improve upon last season, too. Estrada is good at keeping runners off base (1.08 WHIP last season) and has the ability to post an ERA of around 3.50 this season, assuming he can find a way to keep the ball in the park (19 homers allowed in 128 innings last year). Peralta was considered one of baseball's better pitching prospects for a few years before becoming a full-time starter last year. He struggled with consistency, but there were spurts where he showed his promise -- such as a six-start span from June 21-July 21 when he was 3-1 with a 0.87 ERA. With a full season under his belt, it's very reasonable to expect improvement that sees his ERA a tad bit under 4.00.
As for Yovani Gallardo, he's due a positive regression. In 2011, he was 17-10 with a 3.52 ERA (112 ERA+) and 207 strikeouts in 207 1/3 innings. In 2012, he was 16-9 with a 3.66 ERA (112 ERA+) and 204 strikeouts in 204 innings. Much like several of his teammates, 2013 was a low point for Gallardo -- especially if we include his DUI. Isn't it reasonable, though, for Gallardo to return to the level he established in 2011-12? He'll only be 28 this year, so it's not like we're talking about age-related regression. He can return to form and be a fine number one, even if he doesn't feel ace-caliber.
In the bullpen, Jim Henderson is very good closer and Brandon Kintzler is coming off a sneaky-great 2013 season. Left-hander Will Smith came over via trade with the Royals and posted a 0.93 WHIP last season with 43 strikeouts in 33 1/3 innings. The group heads into the season as a rather underrated back-end trio.
Tie it all together and the 2014 Brewers appear poised to improve significantly on their 74 wins last season, assuming major adversity is avoided -- unlike it was last year. Whether the marked improvement is enough to make the playoffs remains to be seen, as the St. Louis Cardinals are rightfully the favorites while the Cincinnati Reds again look good and the Pittsburgh Pirates won't be going away.
Do not ignore the Brewers, though. They are a threat to turn some heads this coming season.
Show Comments
Hide Comments