Drew to decline Red Sox's $14.1M qualifying offer, aims much higher
Stephen Drew will decline the Red Sox's $14.1-million qualifying offer. Agent Scott Boras suggests the market is very strong.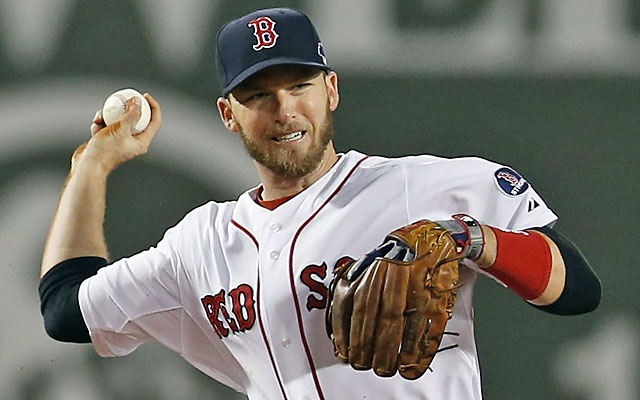 A few baseball folks were surprised the Red Sox even extended the $14.1 million qualifying offer to shortstop Stephen Drew, but it has become clear already that Drew will not accept that offer and is aiming much higher than that.
Agent Scott Boras declined to comment on Drew's plans for the qualifying offer, but Boras' rhetoric suggested they have much bigger plans in mind. In a mostly weak shortstop group, Drew stands out, and Boras went so far as to include Drew when he spoke of the unexpected markets developing for stars Jacoby Ellsbury and Shin-Soo Choo, saying about the trio, "There's more mysteries than at a book fair."
Beyond the incumbent Red Sox, the Yankees, Dodgers and Cardinals are among logical Drew suitors. Los Angeles could move star shortstop Hanley Ramirez to third base.
While Boras wouldn't even address the qualifying offer issue, he scoffed at the speculation (mine included here in my free-agent roundup) that Drew could wind up with a three-year contract, saying, "A three-year deal, for a 30-year-old free agent, really?"
Boras also said, "Are these writers aware of what Elvins Andrus signed for?" The younger Andrus received $120 million over eight years, though he was not yet a free agent.
The shortstop market is thin, which benefits Drew. Jhonny Peralta had a nice year but may be seen as a third baseman by some.
"Drew is in the top five offensively and defensively at his position. You can't find a guy with that package," Boras said.
Perhaps Drew didn't help himself by going 6 for 52 in the postseason, but his superb shortstop play was a key to Boston winning the title, especially compared with the other shortstop play in the World Series. In the regular season Drew hit .253 with 13 home runs and 67 RBI, and his .777 OPS ranked below only Troy Tulowitzki and Jed Lowrie among shortstops with 450 plate appearaces.
Show Comments
Hide Comments