Dusty Baker remains in a Chicago hospital while Reds are in Cincinnati
Dusty Baker will spend at least on more night in Chicago on the advice of his doctors, even though his team was in position to clinch an NL Central title on Friday.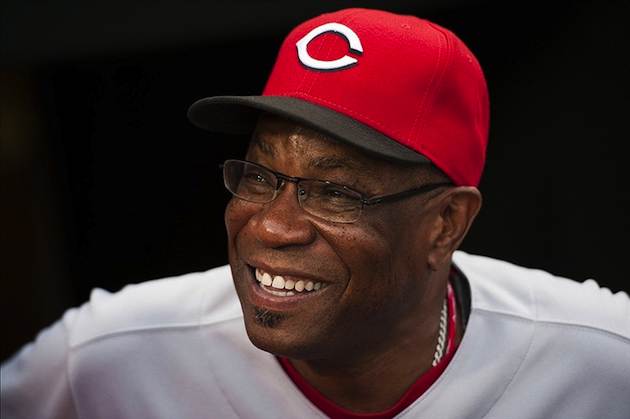 Dusty Baker is still in Chicago while his team is in Cincinnati. (US Presswire)
If the Reds are able to clinch on Friday, they will celebrate without manager Dusty Baker, who will stay at least one more night in Chicago, the team announced before Friday's game in Cincinnati.
Baker was admitted to a Chicago hospital before Wednesday's game against the Cubs because of an irregular heartbeat.
According to a release by the Reds, Baker's doctors were concerned about him traveling on Friday, so he will stay in Chicago for another night at the very least. The team said it would have no further updates until Wednesday.
The Reds clinched a playoff berth on Thursday and their magic number for the National League Central title is just 1 heading into their game against the Dodgers on Friday, as the Cubs beat the Cardinals 5-4 in 11 innings earlier in the day. 
"I think bottom line, I'm worried. You have your good, good close friend that's in the hospital," acting manager Chris Speier said earlier in the day. "He's fine. It's just that they want to make sure before they put him on the plane that he had some fluids and make sure that all is taken care of. But you worry about him. He's our leader, and for me just a dear, dear friend. My mind is more with him than it is about this game."
For more baseball news, rumors and analysis, follow @EyeOnBaseball on Twitter, subscribe to the RSS feed and "like" us on Facebook.