Eight 2014 Home Run Derby participants officially announced
All but two of the 2014 Home Run Derby participants were announced Tuesday. AL: Jose Bautista (c), Adam Jones, Yoenis Cespedes and Brian Dozier. NL: Troy Tulowitzki (c), Giancarlo Stanton, Yasiel Puig and Todd Frazier.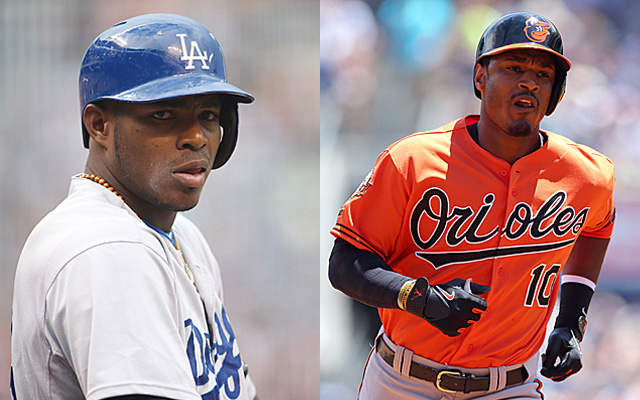 More All-Star Game: Full rosters | Final Vote candidates | Which pitchers will start?
Eight of the 10 participants in the 2014 Home Run Derby -- which takes place Monday in Minnesota's Target Field -- were officially announced Tuesday night by Major League Baseball.
On the AL side, captain Jose Bautista chose Adam Jones, Yoenis Cespedes and Brian Dozier to join him. Over in the NL, captain Troy Tulowitzki has picked Giancarlo Stanton, Yasiel Puig and Todd Frazier.
Each side will have one more combatant, and those two guys will be revealed Thursday.
Heading into Tuesday's action, Jones has 16 homers this season. If he gets to 30, it'll be his third straight 30-plus homer season. Per Home Run Tracker, Jones averages 399.2 feet per home run this season with a high of 439 feet.
Dozier is a choice by Bautista that'll appeal to the home fans, and the Twins second baseman does have power. He has 16 homers on the year, with nine of them coming in Target Field.
Cespedes is the defending champ. We don't need to get into what he might do, because we saw his ability last year.
Same for Stanton, noted crusher of baseballs. He'll be a popular pick to win the Derby, and rightfully so, as his prodigious power is well-known.
Puig only has 12 homers on the season, but he has plenty of power to put on a show in the event itself. He's averaging 417.3 feet per home run with a long of 452 feet (HR Tracker). Only Stanton (shocker, I know) and Mike Morse average more distance per home run.
Frazier is sitting with 17 homers on the year, heading into Tuesday night. He averages 401 feet per bomb with a long of 446 (HR Tracker). Take note that Frazier has enough power to have once homered when he threw the bat at the ball:
Show Comments
Hide Comments
Our Latest Stories
Kinsler seemed to disparage players from Puerto Rico and the Dominican Republic for showing...

From Adam Jones' catch to Jose Bautista's throw. Here are the best moments of the 2017 WBC

What makes a successful Phillies season? First off, the youngsters need to keep progressin...
How a chance trip to the WBC championship game turned me from skeptic to believer

Jim Leyland's USA team won the World Baseball Classic, and he was emotional

The United States wrapped up the 2017 World Baseball Classic championship on Wednesday nig...