EOB's Imaginary Ballots: How we'd vote for the Hall of Fame
None of our three Eye on Baseball bloggers have an actual Hall of Fame vote, but they all have opinions. Here are the ballots they would have cast had they been given the opportunity.
by

Eye on Baseball staff

• 3 min read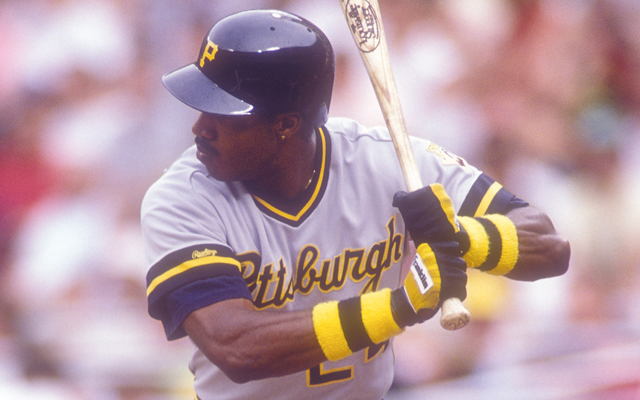 Hall of Fame cases: Luis Gonzalez | Moises Alou | Lee Smith | Fred McGriff | Don Mattingly | Jack Morris | Rafael Palmeiro | Sammy Sosa | Edgar Martinez | Jeff Kent | Alan Trammell | Larry Walker | Mark McGwire | Tom Glavine | Frank Thomas | Mike Piazza |Mike Mussina | Curt Schilling | Craig Biggio | Tim Raines | Jeff Bagwell | Roger Clemens | Barry Bonds | Greg Maddux
At 2 p.m. ET this afternoon, the BBWAA will announce the 2014 Hall of Fame class. More than 500 voters -- including our own Jon Heyman -- have cast their ballots and players who appeared on at least 75 percent of those ballots will be inducted into Cooperstown. The public ballots collected at Baseball Think Factory suggest as many four players will be inducted today, though that data is incomplete.
Unlike Heyman, our three Eye On Baseball bloggers are not BBWAA members and do not have a Hall of Fame vote. None of us cast ballots this year or any year. That sure as heck won't stop us from having opinions though. Below are our imaginary ballots, the ballots we would submit if we had a vote. Which we don't, just to be clear. The players in the individual ballots are listed alphabetically.
As a reminder: ballots are limited to 10 players maximum, which is a silly and archaic rule and a bit of a problem nowadays.
Matt Snyder's Imaginary Ballot
Jeff Bagwell
Craig Biggio
Barry Bonds
Roger Clemens
Tom Glavine
Greg Maddux
Mike Mussina
Mike Piazza
Curt Schilling
Frank Thomas
My rule on PEDs would always be that if a player was suspended for a PED violation while the Joint Drug Agreement was in place, he will never get my vote. So that's a no to Rafael Palmeiro and a future no to guys like Manny Ramirez, Ryan Braun and Alex Rodriguez (unless he somehow wins his appeal). The guys above are the 10 best players on the ballot in my view, but not the only 10 deserving, as I'm a Big Hall guy, as has been noted in the past. I wouldn't try to strategically vote for guys in danger of falling off the ballot who I deem Hall-worthy, because I would view my responsibility to be attempting to vote for the 10 most deserving candidates and let the chips fall where they may from there.

Who else I'd vote for if no limit: Jeff Kent, Edgar Martinez, Don Mattingly, Fred McGriff, Mark McGwire, Tim Raines, Sammy Sosa, Alan Trammell and Larry Walker.
Dayn Perry's Imaginary Ballot
Bagwell
Biggio
Bonds
Clemens
Glavine
Maddux
Mussina
Piazza
Raines
Thomas
I'm not all that concerned about PED use, mostly because I think every generation of ballplayers in the main used whatever edge they could muster. There was nothing pure about the past; players of various "golden ages" were limited not by moral misgivings, but rather by the limits of technology. So let's all stop being so naive. With that said, I will penalize users based on, let's face it, blind guesses as to how they would've fared in a more "natural" state, but that's a wildly imprecise practice on my part.
Beyond all that, the ballot is now so crowded with obvious worthies that I'd vote for more than 10 if permitted. Here are the other guys I'd vote for if I had more slots to fill: Kent, Martinez, Rafael Palmeiro, Schilling, Trammell, Walker, Sosa and McGwire.
Mike Axisa's Imaginary Ballot
Bagwell
Biggio
Bonds
Clemens
Glavine
Maddux
Mussina
Piazza
Raines
Thomas
Like my two colleagues, there are way more than 10 players I'd vote for if given the opportunity. I'm stuck whittling my list down to the best of the best (of the best) and those are the 10 names who have the best Hall of Fame cases in my book.
I consider the Hall of Fame a museum and a record of the game's history, and PEDs are part of that history. History includes the good parts, the bad parts, and the ugly parts. It's all-encompassing. Pretending that the stuff we don't like didn't happen is disingenuous. Bonds and Clemens (and Piazza and Bagwell, etc.) are some of the greatest players in the history of the sport. A Hall of Fame without them is incomplete.
Other guys I'd vote for if not for the 10-vote limit: Kent, Martinez, McGwire, Palmeiro, Schilling, Sosa, Trammell and Walker.
Show Comments
Hide Comments
Our Latest Stories
The franchise catcher is in his walk year, and two sides appear open to a contract extensi...

The good news is that an MRI showed no structural damage
He was re-assigned to minor league camp on Sunday

Brian Havrilla has done important work

Young Brody Chernoff, son of Mike Chernoff, was a guest in the Indians' radio booth recently,...