Erik Bedard removed from game with zero hits allowed, takes loss
Erik Bedard didn't allow a hit through 6 1/3 innings, but was removed from the game. He also allowed three runs and took the loss.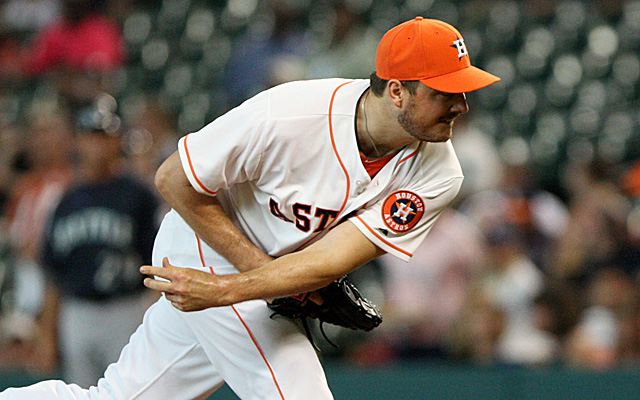 More MLB: Scoreboard | Standings | Probable Pitchers | Sortable Stats | Odds
Astros pitcher Erik Bedard just had an outing where he didn't allow a hit, but he's off to the showers with the game still in doubt. He departed after 6 1/3 hitless innings in a tie ballgame.
Also notable: Bedard actually allowed three runs and ended up taking the loss.
In the Mariners' sixth inning, they drew two walks before a passed ball moved the runners to second and third. A sacrifice fly off the bat of Nick Franklin plated one run and moved the other runner to third. And then another passed ball enabled a second run to score.
With the two passed balls, Bedard's two runs allowed that inning were of the unearned variety. After Bedard departed, one runner he put on base scored, giving him one earned run allowed.
So here's his final, wacky line: 6 1/3 IP, 0 H, 3 R, 1 ER, 5 BB, 10 K, L
The pitch count through 6 1/3 innings was at 109, the exact number he threw last start, which marked a season high. He hasn't thrown more than seven innings all season.
Though there may be some detractors to removing a pitcher with a no-hitter going, we have to consider that Bedard's workload was as high as he's had all season and he still needed to go 2 2/3 more innings to complete the feat. Even against a poor offensive team, he was going to be gassed and the odds of a full no-hitter were incredibly poor.
The last no-hitter where the pitcher allowed at least one run to score came rather recently, as Ervin Santana did so in 2011. There have been 12 no-hitters in big-league history where the pitcher allowed a run, but only twice did the pitcher allow multiple runs.
In 1992, Red Sox starter Matt Young took a no-hitter loss, allowing two runs in eight innings in a road game. And in 1990, Yankees starter Andy Hawkins threw a no-hitter and allowed four runs -- all unearned -- in eight innings on the road.
So Bedard had a shot at joining some weird company, but was lifted. And now he's in line for a loss in a game where he didn't allow a single hit.
The Mariners collected their first hit with two outs in the seventh when Michael Saunders doubled home two runners -- one of which was charged to Bedard. It would end up being their only hit. So the Mariners won a game in which they only collected one hit and scored four runs.
Amazing night of "you can't predict baseball" in Houston.