Even amidst injury woes, counting out the Yankees would be folly
So the list of reasons for Yankee Haters to pound their collective chests is growing, huh? As for me, I refuse to count them out. In fact, I won't be surprised to see them in the playoffs again.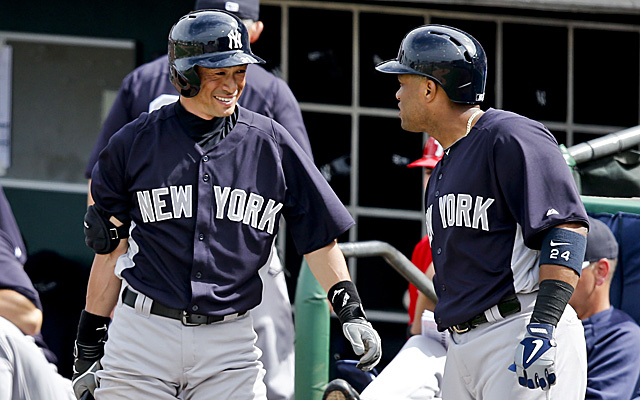 So the list of reasons for Yankee Haters to pound their collective chests is growing, huh? Let us count the ways:
OMG they're so old!
CC Sabathia had elbow issues last year and relies heavily on sliders, meaning it wouldn't be surprising to see elbow issues crop up again.
Alex Rodriguez. Hip. Also, he's A-Rod.

Derek Jeter

is coming off a broken ankle.

Mariano Rivera

is coming off a torn ACL.
Curtis Granderson has a broken arm.

Mark Teixeira

has a strained wrist.
Phil Hughes has a bad back.
The funny thing is, the only thing on that list above -- aside from the age concerns, which my colleague, Mike Axisa, already debunked -- that will linger past mid-May is A-Rod's hip injury. But the Yankees signed Kevin Youkilis, and he's working with a new, more compact, swing.
More on Yankees
Analysis

Related links
I don't doubt the Yankees will get off to a slow start, at least offensively. Even if they sign someone like Carlos Lee to be a temporary fix at first base, they won't get much offense from behind the plate or left field, not to mention Jeter might not be completely healthy in the first few weeks.
But here's the thing: The season is six months long. A poor start can be overcome. The Yankees have done so several times in the recent past, actually.
They started 11-19 in 2005 and ended up 95-67. In 2007, the Yankees were 21-29 on May 29 loss and ended up 94-68. They started 13-15 in 2009 -- a ballclub that ended up winning 103 games and the World Series. Heck, they were only 21-21 in late May last season and ended up 95-67.
From where I sit, it seems to me the Yankees just need to tread water for the first six weeks of the season before they're back at near-full strength. Then they can put together their vintage huge second half.
By mid-May, here's what the lineup might look like:
1. Ichiro, RF
2. Jeter, SS
3. Robinson Cano, 2B
4. Teixeira, 1B
5. Granderson, CF
6. Youkilis, 3B
7. Travis Hafner, DH (or maybe Lee?)
8. Brett Gardner, CF
9. Chris Stewart, C
Team that with a good starting rotation and outstanding back end of the bullpen in Rivera and David Robertson. Sorry, haters, that's a playoff-caliber team.
Sure, there are potential pratfalls, but pretty much every team has those. We can negate those by pointing out Teixeira is historically awful for the start of the season, anyway, and getting Gardner back gives the Yankees a big boost on defense and the basepaths. Also, what if A-Rod comes back midseason? For all the malign on A-Rod, he hit .272/.353/.430 last season, good for a 112 OPS-plus.
Most of all, the fact that the Yankees have been to the playoffs 17 of the last 18 seasons gives me reason enough to refuse to write them off. The run has to come to an end at some point, but I'm gonna need to see it happen before writing them off. I especially refuse to write them off in early March based upon a few injuries -- none of which are season-ending and most of which will be healed by mid-May.
For more baseball news, rumors and analysis, follow @EyeOnBaseball on Twitter, subscribe to the RSS feed and "like" us on Facebook. Also, individually interact with us on Twitter: @MattSnyder27, @daynperry and @mikeaxisa.

Show Comments
Hide Comments