Evolution of an out pitch: Matt Harvey's slider
Matt Harvey introduced a slider to his arsenal as a junior in college. Four years later, it is one of baseball's most dominant pitches.
More MLB: Scoreboard | Standings | Probable Pitchers | Sortable Stats | Odds
NEW YORK -- On Tuesday night, Matt Harvey will make what will be the most-hyped start of his young career. Sure, the matchup with Stephen Strasburg a few weeks ago was must-see television, but Mets-Yankees is another animal entirely. They say the Subway Series has lost some luster over the years, and while that is true to a certain extent, the Citi Field crowd was certainly amped up for Brett Gardner's home run-robbing catch and Daniel Murphy's game-winning, eighth-inning single on Monday night.
The 24-year-old Harvey comes into Tuesday's start with a 5-0 record and 1.93 ERA in 10 starts this season. He leads the league with a 0.83 WHIP and is among the top 10 with a 9.5 K/9 and 2.9 WAR. Since debuting last year, he's gone 8-5 with a 2.30 ERA and 0.97 WHIP in 20 MLB starts.
Harvey also ranks among the league top 10 in another important category: whiff rate. That is the percentage of misses that he generates when hitters swing. When swinging at one of his pitches this year, opponents have come up empty 25.6 percent of the time -- basically one out of every four swings. That's the sixth-best whiff rate in baseball and second-best in the NL. The league average is 20.6 percent.
When you watch Harvey pitch, it's easy to see why he generates so many swings and misses. His fastball has averaged 94.8 mph this year and has run as high as 98.9 mph according to PitchFX. He also throws three offspeed pitches at least 10 percent of the time, including a wipeout, upper-80s slider that he'll use roughly once out of every five pitches. When opponents have taken a swing at Harvey's slider this season, they've missed 30.7 percent of the time according to the data at Brooks Baseball. It's an electric pitch and big reason why he has been so successful. Here's an example from a recent start: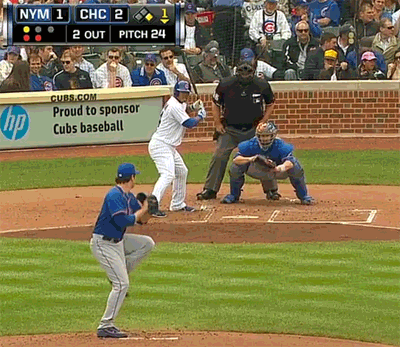 The GIF comes courtesy of the appropriately titled F Yeah Matt Harvey tumblr.
Harvey didn't always have that slider, however. In fact, it wasn't until he reached the big leagues last year that the pitch became what it is today. It took some proding before he even fully accepted the pitch into his repertoire. When the Angels drafted Harvey in 2007, it was because of his curveball, not the slider. Here's a timeline of the development of one of baseball's best pitches, Matt Harvey's slider.
2004-07: Fitch High School, Connecticut
Although Rick Porcello passed him as the top high school pitching prospect in the nation in the spring of 2007, Harvey was still expected to be a first-round pick. A strong commitment to the University of North Carolina scared teams away, so it wasn't until the third round that the Angels bit. Harvey did indeed follow through on his college commitment and passed on a seven-figure signing bonus to turn pro.
In their their pre-draft scouting report, Baseball America made nary a mention of the slider. They touted Harvey's mid-90s fastball and a "power curveball (that) has been a 65 pitch on the 20-80 scouting scale at times." They even mentioned his "promising 78-81 mph changeup." The slider? No mention of it because it didn't exist. Harvey was primarily a fastball/curveball pitcher at Fitch HS.
2008-10: UNC Tar Heels
During his first two years on campus, Harvey went 14-4 with a 4.16 ERA and 10.2 K/9. He struggled so much as a sophomore (5.40 ERA and 1.73 WHIP) that he spent part of the year in the bullpen. Heading into his junior season, Baseball America noted Harvey had a tendency to elongate his arm action, which would hinder his command. When right, though, he had "explosive stuff."
Bill Caudiff, an employee at the Boras Corporation and Harvey's "advisor" before the draft, encouraged the right-hander to add a fourth pitch to his repertoire. The fastball, curveball and changeup were good enough to get him drafted relatively high again, but that fourth pitch was what Caudiff felt he needed to become an elite pitching prospect. Harvey agreed to work on the pitch.
With some help from UNC pitching coach Scott Forbes, Harvey refined his slider and incorporated it into his pitching arsenal. Thanks to the new four-pitch mix, he went 8-3 with a 3.09 ERA and 9.6 K/9 as a junior. By the time the draft rolled around, some scouts had dubbed the slider a "well-above-average pitch" according to Baseball America.
The Mets used the seventh overall pick in the 2010 draft to take Harvey, paying him a $2.525 million signing bonus to turn pro despite a solid but hardly elite 3.73 ERA in three years with the Tar Heels. The explosive fastball and new breaking ball hinted at stardom.
2011-12: The Minors
So, that new fancy slider? Put it in your pocket, Matt. That's basically what the Mets told their 2010 first-round pick during his minor-league career. They didn't want to risk injury to his elbow -- sliders are notoriously rough on the ulnar collateral ligament (the Tommy John ligament) when thrown incorrectly or too often -- but they also wanted him to iron out his mechanics and make some other refinements. Typical prospect stuff, really.
In 46 minor-league starts from 2011 through July 2012, Harvey went 20-10 with a 3.48 ERA and 9.8 K/9 while seldom using his slider. He was effectively the fastball/curveball/changeup pitcher whom he was back in college. In his final minor-league start with Triple-A Buffalo last July, Harvey allowed six runs on seven hits in five innings. The Mets called him up anyway.
2012-present: The Show
Five days after the rough Triple-A finale, Harvey struck out 11 Diamondbacks in five innings in his big-league debut. ESPN's Keith Law scouted the game and said afterwards that he has never seen Harvey throw "a slider this sharp," a pitch that he also called "toxic." How does someone go from rarely using a slider in the minors to throwing a "toxic" slider in his big-league debut a week later? With some adjustments.
When Harvey joined the big-league team, he tweaked his slider grip at the suggestion of Mets pitching coach Dan Warthen. It's nothing elaborate at all, basically just a fastball grip with the seams positioned in a different way. As Harvey likes to say, he just "throws the crap out of it." Simple enough. Just like that, the pitch became devastating and the backbone of his success.
Baseball is a game of adjustments, and it is not at all uncommon for pitchers to tinker with new pitches and new grips during the course of their careers. Harvey went from fastball/curveball high schooler to fastball/curveball/changeup college pitcher to fastball/slider/curveball/changeup big-league star in the span of seven years. Caudiff, Forbes and Warthen played big roles in the development of Harvey's slider during those seven years, but they surely aren't the only ones who had input. There were minor-league pitching coaches and coordinators along the way as well.
Harvey's sudden success in the big leagues is not something that we see every day, but it isn't unprecedented. His ability to add a new pitch, put it on the shelf for 18 months in the minors, then have it re-emerge as one of the most devastating out pitches in the game is rare and part of what makes him so unique. It took more than talent; it took work ethic and the help of some very sharp people. Ten months into his big-league career, Harvey is reaping the rewards.
Show Comments
Hide Comments
Our Latest Stories
The right-hander was diagnosed with testicular cancer in November of last year

MLB is set to alter the way intentional walks are issued, and that's too bad

And here's a look at him in a Globetrotters uniform
It looks like something from the 1800s, if not 1700s

We often hear about good and bad framers, so let's spell it out

It happened the day MLB said it'll make intentional walks automatic