Extension talks between Orioles, Chris Davis have not progressed
Orioles GM Dan Duquette confirmed the team has offered Chris Davis a long-term contract extension, but also said talks haven't really progressed.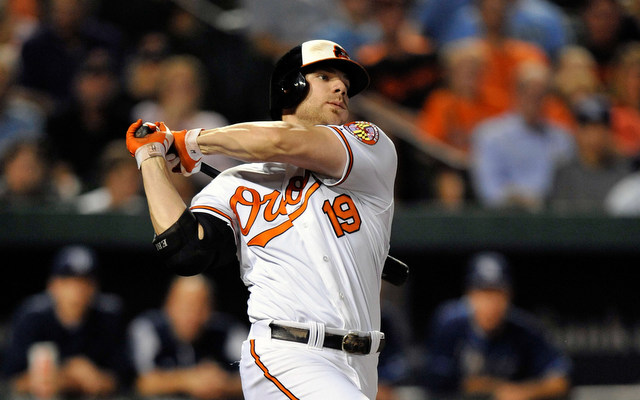 MORE: FA tracker: position players | FA tracker: pitchers
Orioles first baseman Chris Davis broke out in a huge way last season, hitting .286/.370/.634 (165 OPS+) with an MLB best 53 home runs and 138 runs driven in. He'll earn $10.35 million as an arbitration-eligible player in 2014 and be eligible for free agency following the 2015 season.
At Saturday's FanFest event, GM Dan Duquette confirmed to Dan Connolly of the Baltimore Sun that the team did offer Davis a long-term contract extension this winter, but "it really hasn't progressed." Davis joked that he hadn't heard anything about the offer but made it clear he hopes to remain with the team for years to come.
"I've said it before. I'll say it every day. I love being in Baltimore. This is a place that really has felt like a second home to me," said Davis to Connolly. "I would love to stay here."
Terms of the long-term offer are unknown but it wouldn't be a surprise if the total value was north of $100 million. Davis will turn only 28 next month and nothing in baseball pays like power. Fifty-three homers in 2013 and 130 homers in 596 career games should earn him a massive payday.
The number of power hitters who signed extensions two years prior to free agency is relatively small, but Evan Longoria (six years, $100 million), Ryan Howard (five years, $125 million), Troy Tulowitzki (10 years, $157.5 million) and Joey Votto (10 years, $225 million) could be referenced in talks. The Orioles gave Adam Jones a six-year, $85 million deal two years before free agency in May 2012.
Duquette also confirmed the Orioles have talked to shortstop J.J. Hardy about a contract extension.
Show Comments
Hide Comments