Eye on Baseball Divisional All-Stars: AL West
Which players would be featured in an All-Star roster built from AL West clubs? A lot of Athletics and Angels, that's for sure.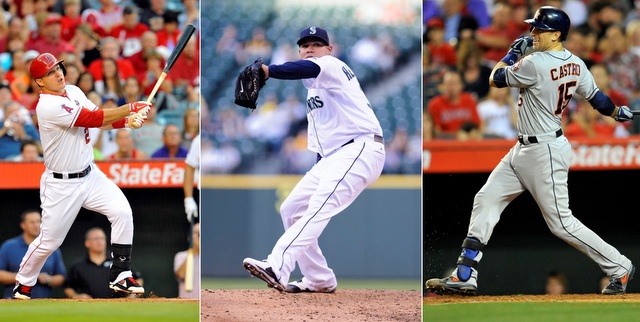 More All-Star Game: AL and NL Rosters | All-Snub Teams | Final Vote Player Profiles
For the first time during the wild card era, the AL West now houses five teams. The Houston Astros jumped ship and abandoned the NL Central for the so-called Junior Circuit this past winter, creating six divisions of five teams.
Of course, these days the AL West is just a two-team race. The Oakland Athletics (52-37) are a half-game up on the Texas Rangers (51-37) while the Los Angeles Angels (43-45), Seattle Mariners (39-49) and Astros (32-57) are way back in the standings. Houston is currently 20 (!) games back of first place with a week to go before the All-Star break. Unsurprisingly, our AL West All-Star team features a few more players from the contenders than the pretenders.
Catcher: Jason Castro , Astros
Some eybrows were raised when the Astros made Castro the 10th overall pick in the 2008 draft, but five years and one serious knee injury later, he is finally living up to the promise. The 26-year-old is hitting .270/.331/.480 (121 OPS+) with 12 home runs and splendid defense that ranks him fifth among big league backstops with 2.2 WAR. This position was a no-brainer.
First Base: Mark Trumbo , Angels
The first name that jumped to mind here was Kendrys Morales, but only 26 of his 81 starts have come at first base. The other 55 have come at DH. Trumbo, 27, gets the nod instead thanks to his .247/.313/.465 (116 OPS+) batting line and 19 home runs. There isn't a truly great first baseman in the AL West, just one really well paid one ...
Second Base: Howie Kendrick , Angels
The 29-year-old Kendrick is having the best season of his career, hitting .312/.354/.472 (131 OPS+) with 11 homers. At 2.1 WAR, he has been the seventh-most valuable second baseman in baseball (but only the fifth-most valuable in the AL). Ian Kinsler would have been a lock for this spot had he not missed close to a month with a rib injury.
Shortstop: Jed Lowrie , Athletics
Lowrie, 29, shifted over to second base recently but, thankfully, has more than enough games at short (57 starts) to qualify at the position for me. I say thankfully because the current crop of AL West shortstops is a wasteland, with Erick Aybar missing a bunch of time to injury and Elvis Andrus struggling to hit his weight. Lowrie owns a .301/.372/.426 (123 OPS+) batting line, which makes him a 1.9 WAR player when combined with his OK (at best) glovework.
Third Base: Josh Donaldson , Athletics
Could have done Adrian Beltre or Kyle Seager here, but I'll stick with the 27-year-old Donaldson thanks to his immense offensive production: .319/.388/.536 (156 OPS+) with 15 homers. He ranks fourth among all third basemen at 4.2 WAR. Donaldson was a catcher not too long ago, and I wonder if getting away from all those responsibilities behind the plate has allowed his bat to blossom.
Left Field: Mike Trout , Angels
I'm bending my position eligiblity rules here -- Trout has only started 34 games in left compared to 53 in center. He would have spent a lot more time in left had Peter Bourjos been able to stay healthy, so that's my excuse. Anyway, the still only 21-year-old Trout is a marvel, hitting .315/.393/.554 (164 OPS+) with 15 homers, 20 steals and elite defense no matter where he plays. Best all-around player in baseball? No question about it.
Center Field: Coco Crisp , Athletics
Talk about a quietly great year. The 33-year-old Crisp is hitting a career-best .264/.350/.429 (117 OPS+) with nine home runs and 14 steals this year, plus he runs down everything in center. A hamstring injury has limited him to only 54 games in center (11 at DH), but I don't have any trouble slotting him in at center in the divisional All-Star team over the wholly adequate Leonys Martin.
Right Field: Nelson Cruz , Rangers
Josh Reddick may have a higher WAR (1.4 vs. 1.3), but I'm going with the 33-year-old Cruz because he's actually stayed healthy this year and has been a far better offensive player: .275/.333/.531 (126 OPS+) with 22 homers and five steals. The certainty of offensive production trumps the general sketchiness of defensive stats in my book.
Designated Hitter:  Kendrys Morales , Mariners

Know what's crazy? Albert Pujols has played way more games at DH (54) than at first base (32) this year, yet he still hasn't been good enough (106 OPS+) to win a spot on the divisional All-Star team. Morales, 30, has been the better hitter so far, producing a .272/.332/.438 (120 OPS+) line with 11 homers. That's all we care about the DH spot ... offense. Morales is the pick.
Here's the lineup I would put together based on those selections:
Trout
Lowrie
Donaldson
Cruz
Morales
Trumbo
Kendrick
Castro
Crisp
Right-Handed Starter: Felix Hernandez , Mariners
Sorry, Yu Darvish, but you're going to have to bow to the King. Felix, 27, is having arguably the best season of his career, and that's kind of ridiculous. His 2.69 ERA (138 ERA+) is only the third best of his career, but his strikeout (9.5 K/9), walk (1.7 BB/9) and K/BB (5.42) are all way better than what he's done in recent years. It's crazy to think that Hernandez might just now be hitting his prime.
Left-Handed Starter: Derek Holland , Rangers
Holland, 26, has curtailed the home run problem that has plagued him in recent years, either through a change in approach or just luck. He's sitting on a 3.13 ERA (140 ERA+) with excellent strikeout (8.6 K/9) and walk (2.3 BB/9) rates. Believe it or not, he currently ranks fourth among all qualified starters at 3.6 WAR.
Setup Man: Ryan Cook , Athletics
Relievers have a tendency to be a flash in the pan, but the 26-year-old Cook is showing last season was no fluke. He's still preventing runs (2.65 ERA and 148 ERA+) and racking up strikeouts (8.4 K/9), and, as an added bonus, he's cut down on his walks (2.7 BB/9). Tanner Scheppers has been great as well, but I lean toward the guy with the better-than-average strikeout rate.
Closer: Joe Nathan , Rangers
Hard to believe Nathan is 38 years old already. He's having another dynamite season in a career full of them, going 29 for 30 in save chances with a 1.40 ERA (316 ERA+). Nathan has only allowed 20 hits in 38 2/3 innings, and he's still managing to pile up strikeouts (9.3 K/9) despite losing a little oomph off his fastball. Grant Balfour has been excellent as well, saving 22 games in 22 chances with a 1.82 ERA (216 ERA+), but Nathan has been just a bit better.