Eye on Playoff Races: Pirates looking to clinch
It's time for our daily look at how the playoff races are shaping up. Monday could see several more spots being locked down.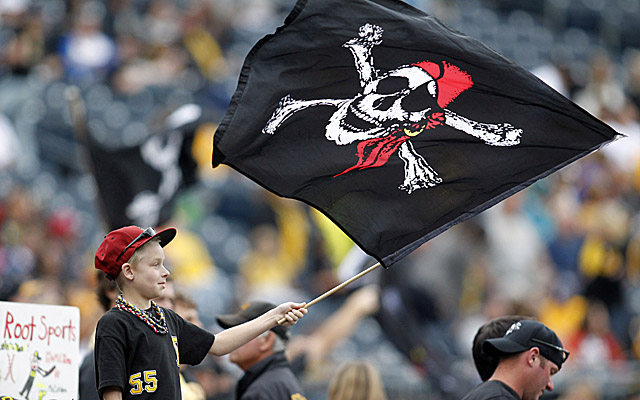 More MLB: Scoreboard | Standings | Probable Pitchers | Sortable Stats | Odds
Here we are, baseball fans. We are less than a week from the 2013 season's conclusion. For me, what sticks out the most Monday is the chance for the Pittsburgh Pirates -- easily the biggest team-oriented storyline of 2013 -- to possibly clinch a playoff berth. Let's dive in.
If the playoffs started today ...
AL wild card: Cleveland Indians at Tampa Bay Rays
ALDS1: WC winner at Boston Red Sox
ALDS2: Detroit Tigers at Oakland Athletics
NL wild card: Cincinnati Reds at Pirates (tied in record, tied in head-to-head, Pirates have better intradivision record)
NLDS1: WC winner at Atlanta Braves
NLDS2: Los Angeles Dodgers at St. Louis Cardinals
Current playoff odds, via Fangraphs
AL
Red Sox - IN
A's - IN
Tigers - 100%
Rays - 87.4%
Indians - 80.3%
Texas Rangers - 29.9%
Kansas City Royals - 1.4%
New York Yankees - 0.9%
Baltimore Orioles - 0.1%
NL
Dodgers - IN
Braves - IN
Cardinals - IN
Reds - 99.9%
Pirates - 99.9%
Washington Nationals - 0.2%
Monday's big matchups
Orioles at Rays, 3:10 p.m. ET: It's Wei-Yin Chen (7-7, 4.03) against Chris Archer (9-7, 3.02) and the Orioles' collective backs couldn't possibly be more against the wall. They've lost four in a row and their hopes of returning to the playoffs are now relegated to miracle status. Meanwhile, the Rays are in a dogfight to have homefield advantage in the wild-card round.
Pirates at Cubs, 8:05 p.m. ET: Just like getting to win number 82, this is a mere formality -- the Pirates clinching a playoff berth -- but it's still an important one.
Nationals at Cardinals, 8:15 p.m. ET: The Cardinals are still pushing for the NL Central title, but winning here helps two division rivals in the wild-card race. On the flip-side, a loss helps both the Pirates and Reds in the NL Central race. Weird times on that front.
Mets at Reds, 7:10 p.m. ET: The Reds look for their 90th win and a playoff berth.
Astros at Rangers, 8:05 p.m. ET: The Rangers are still within striking range and get an easy opponent to help get things back on track.
Tigers at Twins, 8:10 p.m. ET: The Tigers can't clinch anything outright until Tuesday, but a win Monday means the AL Central title is just one win OR one Indians loss away from being put away.
Royals at Mariners, 10:10 p.m. ET: The Royals are another team in search of a miracle. They probably need to win out, so that makes this one a must-win.
Monday's possible clinchers
Pittsburgh clinches Wild Card berth with a win -- AND -- a Washington loss
Cincinnati clinches Wild Card berth with a win -- AND -- a Washington loss
Pittsburgh clinches Wild Card share with a win -- AND -- a Washington win
Cincinnati clinches Wild Card share with a win -- AND -- a Washington win
Pittsburgh clinches Wild Card share with a loss -- AND -- a Washington loss
Cincinnati clinches Wild Card share with a loss -- AND -- a Washington loss
2013 postseason schedule
NL Wild Card Game: Oct. 1
AL Wild Card Game: Oct. 2
NL Division Series begin: Oct. 3
AL Division Series begin: Oct. 4
NL Championship Series begins: Oct. 11
AL Championship Series begins: Oct. 12
World Series begins: Oct. 23
Show Comments
Hide Comments