Eye on Playoff Races: Tigers look for third straight division title
Time to take a look at where we stand with just six days left in baseball's regular season. The big story Tuesday is that the Tigers can clinch the AL Central.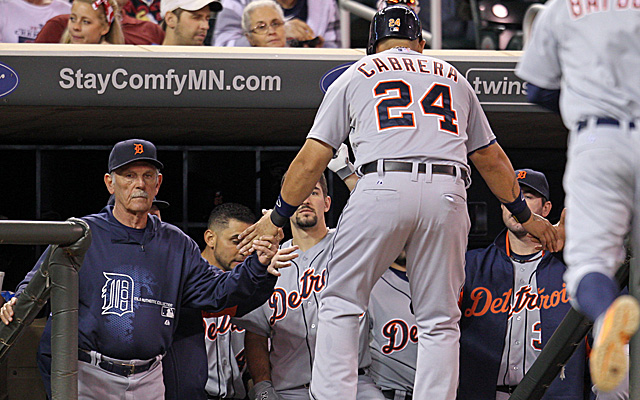 More MLB: Scoreboard | Standings | Probable Pitchers | Sortable Stats | Odds
Another day, another snapshot of the race to October. Two more teams punched their tickets to the postseason Monday and we now know the five NL playoff teams. Let's take a look.
If the playoffs started today ...
AL wild card: Cleveland Indians at Tampa Bay Rays
ALDS1: WC winner at Boston Red Sox
ALDS2: Detroit Tigers at Oakland Athletics
NL wild card: Cincinnati Reds at Pittsburgh Pirates (tied in record, tied in head-to-head, Pirates have better intradivision record)
NLDS1: WC winner at Atlanta Braves
NLDS2: Los Angeles Dodgers at St. Louis Cardinals
Current playoff odds, via Fangraphs
AL
Red Sox - IN
A's - IN
Tigers - 100%
Rays - 90.7%
Indians - 73.5%
Texas Rangers - 33.6%
Kansas City Royals - 1.6%
New York Yankees - 0.5%
Baltimore Orioles - 0.0%
NL
Dodgers - IN
Braves - IN
Cardinals - IN
Reds - IN
Pirates - IN
Tuesday's big games
•Brewers at Braves, 7:10 p.m. ET: The Braves now only have a half-game lead over the Cardinals for the best record in the NL. Considering the gigantic split in home/road record for Atlanta (52-23 at home, 40-41 on the road), it would behoove them to lock this thing down.
• Washington Nationals at Cardinals, 8:15 p.m. ET: See above. Also factor in the Cardinals haven't yet sewn up the NL Central.
•Pirates at Cubs, 8:05 p.m. ET/ New York Mets at Reds, 7:10 p.m. ET: The Pirates and Reds are deadlocked in the standings, meaning tiebreakers decide who would host a one-game wild-card playoff, not to mention they're just two back of the Cardinals for the NL Central title. And, in fact, just 2.5 back of the best record in the NL. A late surge for either of these teams would be huge.
•White Sox at Indians, 7:05 p.m. ET: The Tribe continues its surge toward a wild card berth.
•Rays at Yankees, 7:05 p.m. ET: The Rays are looking to hold off the Indians for the top wild-card spot, while the Yankees in a spot of desperation.
•Astros at Rangers, 8:05 p.m. ET: We can't yet count out the Rangers, especially with them playing the Astros.
•Tigers at Twins, 8:10 p.m. ET: See the section below.
•Red Sox at Rockies, 8:40 p.m. ET/A's at Angels, 10:05 p.m. ET: Anyone notice the A's are now within one game of the Red Sox for the top record in the AL?
Tuesday's possible clinchers
•Tigers clinch the AL Central with a win AND an Indians loss
•Tigers clinch playoff berth with a win OR a Rangers loss
•Tigers clinch share of AL Central with a win AND an Indians win
•Tigers clinch share of AL Central with a loss AND an Indians loss
2013 postseason schedule
NL Wild Card Game: Oct. 1
AL Wild Card Game: Oct. 2
NL Division Series begin: Oct. 3
AL Division Series begin: Oct. 4
NL Championship Series begins: Oct. 11
AL Championship Series begins: Oct. 12
World Series begins: Oct. 23
Show Comments
Hide Comments