Father's Day Special: Top 10 current second-generation MLB players
Who are the top 10 MLB players who also had a father play in the bigs? Robinson Cano is first. Can you name the other nine?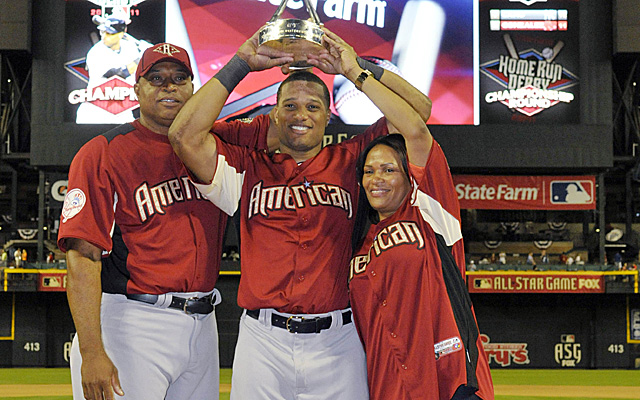 More MLB: Power Rankings | Expert Picks | Latest news & notes | Fantasy news
In honor of Father's Day, let's take a look at the sons of MLB playing fathers who have also made it to the show. We'll subjectively pick the top 10 current second-generation MLBers and list a few more at the end. What is perhaps most interesting is that most of the sons these days are better than their fathers were. Given that it's Father's Day, I like pointing that out because I'm sure it makes for a very proud father.
We'll rank them by career acumen and, again, this only includes current MLB players.
1. Robinson Cano , Seattle Mariners
Father: Jose Cano
Jose was a pitcher and only made six appearances in his big-league career, posting a 5.09 ERA for the 1989 Houston Astros . It's safe to Robinson has lapped him and then some, as he could well be headed to the Hall of Fame.
2. Prince Fielder , Texas Rangers
Father: Cecil Fielder
How about the power here? Both Prince and Cecil have a 50-homer season on their respective resumes. Prince was having a terrible year before suffering a season-ending injury this year, but he's still the superior player, slashing .285/.388/.522 with 288 homers and 886 RBI in 10 seasons, compared to .255/.345/.482 with 319 homers and 1008 RBI in 13 seasons from his father.
3. Jayson Werth , Washington Nationals
Stepfather: Dennis Werth; Grandfather: Dick Schofield
Dennis only saw action in 117 games in parts of four seasons, but Grandpa Schofield hung around for 19 years. Still, Jayson Werth has had the best career of this group of three and it's not particularly close. He's gotten MVP votes in three different seasons and is the only All-Star here.
4. Nick Swisher , Cleveland Indians
Father: Steve Swisher
Steve was an All-Star once and spent parts of nine seasons in the bigs as mostly a backup catcher. He ended his career with a slash line of .216/.279/.303 and hit only 20 homers. Nick boasts an OBP of over .350 with 234 career jacks. He's hit more homers in a season than his father did in his career nine straight times. That's a good way to make Papa proud.
5. Adam LaRoche , Nationals
Father: Dave LaRoche
Dave was a two-time All-Star on the hill and racked up 126 saves in his 14-year career. Adam has never been an All-Star but has racked up 225 homers in his 11-year career. I think I'd take Adam if given the choice between the two because power hitters are generally more valuable than relief pitchers, but this one is actually pretty close.
6. Neil Walker , Pittsburgh Pirates
Father: Tom Walker
Tom was 18-23 with a 3.87 ERA (99 ERA+) in parts of six seasons. Neil has been a very productive second baseman for the past five seasons and appears headed to seriously trump anything his father ever did. He may have already.
7. Michael Brantley , Indians
Father: Mickey Brantley
Mickey hit .259/.300/.407 with 32 homers and 34 steals in 302 career games. Not bad. His son is a better all-around player (.282 hitter with 36 homers and 64 steals), though, and could well be headed to the All-Star Game this summer.
8. Jason Grilli , Pirates
Father: Steve Grilli
Steve had a 4.51 ERA in 70 career appearances in parts of four seasons. Jason has hung around for 12 years and was one of the best relievers in baseball for much of last season. He's an All-Star. Score another point for the sons.
9. Will Venable , San Diego Padres
Father: Max Venable
Max hung around for 12 years, playing for four different teams and hitting .241/.302/.345 with 18 homers and 64 stolen bases. Will has him beat, despite playing in the cavernous Petco Park for his home games, as he's hitting .253/.318/.421 with 69 homers and 110 steals so far.
10. Dee Gordon , Los Angeles Dodgers
Father: Tom Gordon
We close with our first entry where we can definitely say Daddy did it better. Tom "Flash" Gordon was a three-time All-Star and racked up 158 saves in his 21-year career. He was a starter for a bit, too, going 17-9 with a 3.64 ERA as a rookie in 1989. Dee is having a good 2014 season, but he's got a ways to go before catching his father.
Some other second-generation sons: Drew Butera , Peter Bourjos , Casey Coleman, Ike Davis , Tony Gwynn Jr., Scott Hairston , John Mayberry Jr., Austin and Andrew Romine , James Russell , Justin Sellers, Scott Van Slyke , Eric Young Jr.
Happy Father's Day, Dads out there. Go dream about your son and grandson teaming up to make this list a few generations from now.
Show Comments
Hide Comments