Fielder running out of time to help Tigers get past Red Sox in ALCS
The Tigers are on the verge of elimination and the lack of production from Prince Fielder is a big reason why.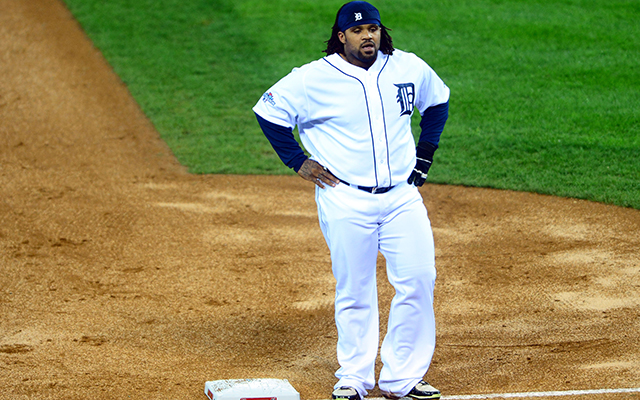 More ALCS: Game 5 box score | Game 5 quick hits | Game 5 grades
DETROIT -- If you think Tigers slugger Prince Fielder is hitless in the ALCS with a ground out to second base in each of his 19 at-bats against the Red Sox, no one would blame you. It sure feels that way.
In reality, Fielder went 1-for-4 in Game 5 on Thursday night and has a hit in four of the five ALCS games. That even includes a double. And yet, Prince heard boos each time he made an out in Game 5, particularly after ... wait for it ... grounding out to second to end the fifth inning following Miguel Cabrera's run-scoring single.
"They're fans. That's what they do," said Fielder following Game 5. "It's definitely not pleasant [hearing the boos], but they're fans. It's what they do. They pay to come."
Fielder, who is in the second year of his nine-year, $214 million contract, has not driven in a run in his last 72 postseason plate appearances or hit a home run in his last 82 plate appearances. That dates back to the ALDS last year. He's hitting .202 with a .247 slugging percentage and 18 strikeouts compared to just four unintentional walks in 23 total playoff games with the Tigers. The power outage is an unavoidable topic at this point.
"I want to hit home runs just as much as everyone else wants me to. I'm just trying to hit the ball hard," added Fielder. "I'm just trying to be aggressive. Probably a little too aggressive."
Aggressive might be an understatement. Fielder has seen only 31 total pitches in his last 12 at-bats, including five one-pitch at-bats. The Red Sox have shifted their infield defense well against him -- "The holes close up a little bit. There's no GPS on the bat so you just have to hit it hard," he said when asked about the shift -- but the root cause of Prince's power outage is the lack of fly balls in general.
With three more ground balls on Thursday, 14 of Fielder's 26 balls in play this postseason have been on the ground. That 53.8-percent ground ball rate is on par with the regular season ground ball rates of noted slap hitters like Denard Span (54.2-percent) and Ichiro Suzuki (52.3-percent). That is not company someone like Fielder should be keeping regardless of sample size. It's a problem. A big one.
"I'd like to hit a little more balls in the air," he added. "I don't have a magic wand. I'm just trying to go up there and hit it hard. I'm trying real hard to hit it hard. That's alright though, I like to try hard."
Trying hard is admirable, but trying isn't good enough at this point. The Tigers have scored 33 runs in 10 postseason games and even though they're two wins away from the World Series, they're just one loss away from elimination with two games at rowdy Fenway Park on the docket. They need Fielder to contribute and now. There is no more time to wait.
Show Comments
Hide Comments