Fifth starter competition leaves Tigers with a relief ace in Smyly
When the Tigers moved Drew Smyly into the bullpen after naming Rick Porcello their fifth starter in spring training, they inadvertently stumbled upon one of the best relievers in baseball.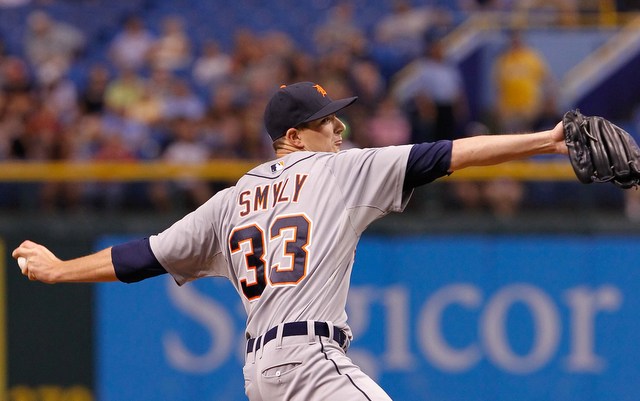 BOSTON -- Last summer, Tigers left-hander Drew Smyly made his big league debut less than two full years after being drafted in the second round out of Arkansas. He went 4-3 with a 3.99 ERA (107 ERA+) and 2.85 K/BB in 99 1/3 innings across 18 starts and five relief appearances, making a strong enough impression that he was allowed to compete for the team's fifth starter job in spring training.
Despite a strong showing in camp (3.38 ERA and 5.67 K/BB in 21 1/3 innings), the 24-year-old Smyly was squeezed out of the rotation in a numbers game, losing the spot to incumbent fifth starter Rick Porcello. Instead of sending Smyly to Triple-A Toledo, the Tigers kept him around in the bullpen. Their reward: the best left-handed reliever in baseball (by FanGraphs WAR) in 2013.
In 76 innings spread across 63 appearances, Smyly pitched to a 2.37 ERA (178 ERA+) with a 1.04 WHIP and a 4.76 K/BB ratio. That's 81 strikeouts against only 17 walks. Left-handed batters had pretty much no chance against Smyly and righties didn't fare all that well either:
| Split | PA | AB | H | 2B | 3B | HR | BB | SO | SO/BB | BA | OBP | SLG | OPS | BAbip | sOPS+ |
| --- | --- | --- | --- | --- | --- | --- | --- | --- | --- | --- | --- | --- | --- | --- | --- |
| vs RHB as LHP | 174 | 161 | 39 | 15 | 1 | 3 | 11 | 47 | 4.27 | .242 | .295 | .404 | .699 | .324 | 88 |
| vs LHB as LHP | 129 | 122 | 23 | 4 | 0 | 1 | 6 | 34 | 5.67 | .189 | .225 | .246 | .471 | .250 | 47 |
Just about every young player will tell you they'll do whatever it takes to stay in the big leagues, including taking on a reduced role. Switching from starter to reliever sounds simple, but learning how to warm up quickly and stay sharp despite an unpredictable workload are things young pitchers who have started their entire lives can struggle with after moving into relief. Smyly was an exception.
"I can get warm quick," said Smyly on Monday. "It was just -- be ready everyday. That was the only change [to my routine]."
As a starter last season, Smyly was a true three-pitch pitcher, throwing a low-90s fastball, a low-80s slider and a low-80s changeup. He would sink or cut his fastball on occasion just to keep hitters honest. As a reliever this year, Smyly scrapped his third pitch and simply goes all out with his top two offerings in each appearance.
"I quit throwing changeups. I didn't throw them very much in the first place," added Smyly. "I was working on it a lot in spring training, when I was competing to be the fifth starter. But when I got put in the bullpen I kinda banged it. I went with my 1-2 because I'm only in for an inning or two so. You gotta go right at people with your best stuff."
As a unit, the Tigers bullpen has allowed 11 runs in 22 2/3 innings in the postseason, including six runs in 11 innings in the ALCS against the Red Sox. Good but not great. Smyly has allowed just one run in five appearances this postseason, and the one run was an inherited runner another reliever allowed to score. In Detroit's win in Game 4 on Wednesday, the southpaw retired all five men he faced. Much like the regular season, he's been the team's best reliever in October.
Smyly wants to start again one day -- "Yes," he respondedly flatly when I asked if he hoped to pitch out of the rotation again -- and why not? He clearly has the stuff to do it even though his changeup is still a work in progress, plus, from his point of view, it's far more lucrative than pitching in relief. For now, Smyly has to settle for being a key cog in the Tigers bullpen and being one of the best relievers in baseball, righty or lefty.
Show Comments
Hide Comments