First-timers headline 2013 Silver Slugger Award winners
Nine first-timers received a Silver Slugger Award on Wednesday night. Here are the winners.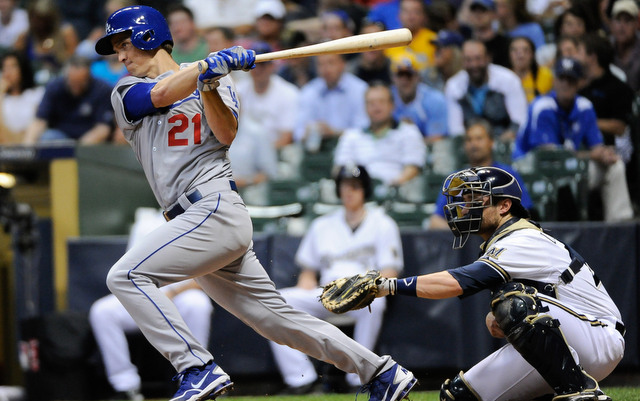 MORE: Gold Glove Winners | MVP, Cy Young, Manager and Rookie of the Year finalists
MLB's awards season continued on Wednesday night, as the Silver Slugger Award was handed out in both leagues. Silver Sluggers are given to the best offensive player at each position as voted on by the game's coaches and managers. Here are the 2013 winners (career Silver Sluggers in parentheses):
AMERICAN LEAGUE
C - Joe Mauer , Minnesota Twins (5)
1B - Chris Davis , Baltimore Orioles (1)
2B - Robinson Cano , New York Yankees (5)
SS - J.J. Hardy , Orioles (1)
3B - Miguel Cabrera , Detroit Tigers (5)
OF - Mike Trout , Los Angeles Angels (2)
OF - Adam Jones , Orioles (1)
OF - Torii Hunter , Tigers (2)
DH - David Ortiz , Boston Red Sox (6)
NATIONAL LEAGUE
C - Yadier Molina , St. Louis Cardinals (1)
1B - Paul Goldschmidt , Arizona Diamondbacks (1)
2B - Matt Carpenter , Carpenter (1)
SS - Ian Desmond , Washington Nationals (2)
3B - Pedro Alvarez , Pittsburgh Pirates (1)
OF - Michael Cuddyer , Colorado Rockies (1)
OF - Andrew McCutchen , Pirates (2)
OF - Jay Bruce , Cincinnati Reds (2)
P - Zack Greinke , Los Angeles Dodgers (1)
Show Comments
Hide Comments
Our Latest Stories
They call it the 'Triple Play'

This year is the 25th anniversary of the classic episode 'Homer at the Bat'

O's VP John Angelos is the son of team owner Peter Angelos
The sense of urgency in D.C. is the highest in MLB, but they might be in position to do something...

Did you know the Cubs won the 2016 World Series? Javier Baez's left shoulder is here to remind...