Five AL Central storylines to watch in 2014
The AL Central is home to no fewer than three certifiable contenders, so let's check out the storylines for 2014.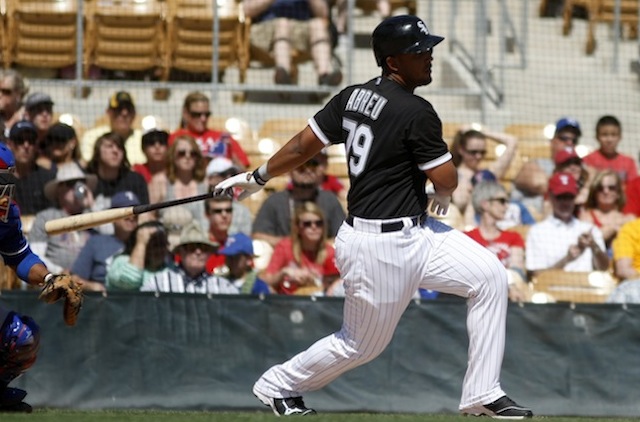 More 2014 Storylines: AL East | AL West | NL West | NL East
Technically, the 2014 regular season has already started. The Dodgers swept a two-game series from the Diamondbacks in Australia over the weekend, but the regular season really starts this coming weekend and next week, when all 30 clubs get underway.
Between now and then, we're going to tackle five burning questions for all six divisions. We continue the series today with the American League Central, which produced two playoff teams last season.
1. Will the Detroit Tigers overcome their injuries?
This spring has not been kind to the reigning AL Central champs. Already, they've lost shortstop Jose Iglesias for at least the healthy majority of the season, outfielder Andy Dirks until June and setup man Bruce Rondon for the entire year. Suffice it to say, those are significant losses. Nothing brings it home quite like this: On opening day, the Tigers may have Andrew Romine at short and Don Kelly in left.
The Tigers can play Rajai Davis every day until Dirks returns, but he's platoon-limited. Kelly, meanwhile, probably doesn't merit a roster spot even on the worst of teams. As for Romine, he doesn't have the bat to be a major-league regular. Meantime, Rondon's loss thins out a bullpen that's already seen Drew Smyly migrate to the rotation and Joaquin Benoit sign with the Padres. Compounding those miseries is the fact that the Tigers don't have a lot of attractive young talent available to package in trade. They likely have some cushion in the Central, but said cushion has been eroded a bit this spring.
2. Is Jose Abreu the real thing?
The Chicago White Sox likely aren't going to be contenders in 2014 (although it says here that they'll be better than generally believed), but Abreu, the marquee Cuban signee, provides hope. His power is absolutely legit -- put him in power-friendly U.S. Cellular, and a 35-homer rookie season is possible. Questions, though, remain. Will he command the strike zone enough to yield a decent OBP? Will he hit on the road? Will he be too pull-happy and thus vulnerable to defensive shifts? Abreu is just 27, so he figures to still be a player of consequence by the time the Sox are ready to contend again. But how good will he be?
3. Is the Minnesota rotation sufficiently improved?
Last season, the Minnesota Twins were saddled with one of the worst rotations in baseball, as they ranked last in the AL in starters' ERA, WAR and strikeout rate. This offseason, they responded by signing Ricky Nolasco and Phil Hughes to multiyear contracts. Nolasco is pretty well established as a modestly better-than-average starter, but Hughes is one whose performance has never matched up with his upside. On the one hand, Hughes, who's long shown a platoon weakness, was a gravely poor fit for Yankee Stadium. On the other hand, Hughes declining velocity and inconsistent repertoire likely won't be fixed by changing home parks. The Twins did themselves a favor by installing Kyle Gibson , but the rest of the lot is roundly uninspiring, if modestly improved. Alex Meyer's arrival at some point during 2014 should help matters.
4. How will the Cleveland Indians replace Ubaldo Jimenez 's innings?
The Tribe will miss Ubaldo, right? Last season, Jimenez, who inked with the Orioles this past offseason, pitched to a 114 ERA+ and 2.7 WAR in 182 2 /3 innings. The best hope for making the Indians forget about Ubaldo may be 24-year-old Danny Salazar . Last season, Salazar dominated across 10 starts at the MLB level, and backing that up is a strong record of performance at the upper levels of the Indians' minor-league system. He has command of three pitches and gets plenty of swinging strikes with his mid-to-high-90s fastball. If he stays healthy, he'll strike out 200 batters in 2014. That's to say, if Salazar stays healthy, he'll do just fine replacing Jimenez.
5. How will the KC rotation behind James Shields fare?
Shields is a certifiable ace, and rookie Yordano Ventura has ace ceiling. But what of the middling remainder? Peruse the ZiPS forecasts available at FanGraphs and you find that Jason Vargas is projected for an ERA of 4.71, Bruce Chen for a mark of 4.43 and Jeremy Guthrie for 4.55. By comparison, in 2013 the average AL starter had an ERA of 4.15, and 2014 doesn't figure to be much different. That's a lot of "worse than average" for a contending rotation to be lugging around, especially considering the Kansas City Royals almost certainly won't boast a top-five offense. Installing Danny Duffy in the rotation could help, but someone's going to need to over-perform, especially in a quietly tough AL Central.
Show Comments
Hide Comments