Five AL West storylines to watch in 2014
Injuries have ravaged the AL West this spring, so the race is wide open.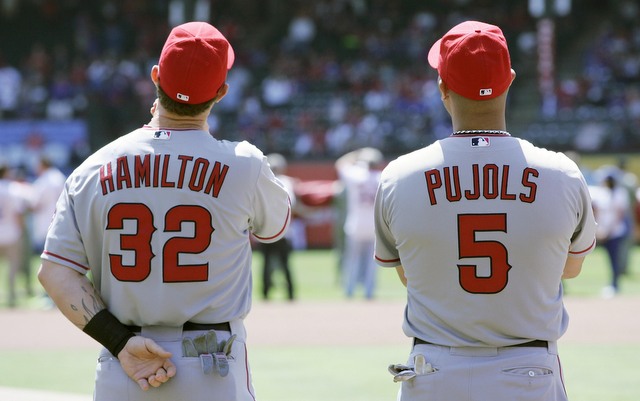 More 2014 Storylines: NL West
Technically, the 2014 regular season has already started. The Dodgers swept a two-game series from the Diamondbacks in Australia over the weekend, and they've now returned home to continue spring training. The regular season really starts this coming weekend and next week, when all 30 clubs get underway.
Between now and then, we're going to tackle five burning questions for all six divisions. We continue the series today with the American League West.
1. Just how much will the Los Angeles Angels get from Albert Pujols and Josh Hamilton ?
Knee and foot injuries limited Pujols to only 99 games last season -- 34 at first base, 65 at DH -- during which he hit a good but decidedly un-Pujols-like .258/.330/.437 (116 OPS+) with 17 home runs. Hamilton, who has been slowed by a calf problem in camp, hit .250/.307/.432 (108 OPS+) with 21 homers in his first season in Anaheim. He got off to a terrible start (92 OPS+ in the first half) before finishing strong (125 OPS+ in the second half) in 2013.
I thought the Angels did a very nice job of addressing their needs this winter rather than simply running out to grab the biggest names, which they've done the last few offseasons. They cleared up the first base/DH and center field logjams by trading Mark Trumbo and Peter Bourjos, filling holes in the rotation ( Tyler Skaggs and Hector Santiago ) and at third base ( David Freese ) in the process. Mike Trout is still the best player in the world and the duo of Jered Weaver and C.J. Wilson are fine rotation anchors, but if the Angels want to contend this season, they need Pujols and Hamilton to both stay healthy and produce.
2. Can the Texas Rangers overcome all their injuries?
This has been a rough spring for the Rangers. Derek Holland will be out until midseason after injuring his knee playing with his dog, and reliever Joe Ortiz will miss a few months with a broken foot suffered when he was clipped by a motorcycle while walking on the side of the road. Those are the offseason injuries. Here's what's happened in camp:
• Elvis Andrus : Out with a sore elbow and questionable for opening day.
• Engel Beltre : Fractured tibia, timetable unknown.
• Yu Darvish : Out with a stiff neck and questionable for opening day.
• Matt Harrison : Dealing with another back issue after missing most of last season. Could return in April.
• Jurickson Profar : Torn shoulder muscle, out 10-12 weeks.
• Geovany Soto : Torn meniscus, out 10-12 weeks.
So right now the team's top three starters, starting catcher, starting second baseman, starting shortstop and extra outfielder are all hurt. Some injuries are more serious than others obviously, but at some point this becomes too much to overcome. Andrus, Darvish, Harrison, Holland, Profar and Soto are six of Texas' most important players and there's a chance none will be ready for opening day. Yikes.
3. Will the Houston Astros make any progress at the MLB level?
The Astros have been historically bad these last three seasons and they're getting worse: 56-106 in 2011, 55-107 in 2012 and 51-111 in 2013. If television ratings are any indication, fans are being driven way and that has a real economic impact on the franchise. Yes, Houston has a tremendous farm system, but the market is still dominated by the casual fan and casual fans don't know anything about Carlos Correa or George Springer. The Astros made a nice deal to get Dexter Fowler and signed the underrated Scott Feldman over the winter, adding two bonafide major league caliber players to the roster, something they haven't done the last few years. They have to start making some actual progress at the MLB level or they're going to alienate even more fans, meaning the club will soon have more to fix than just a bad team.
4. Do the Oakland Athletics have enough pitching to a win third straight division title?
Jarrod Parker is out for the season with Tommy John surgery and A.J. Griffin will miss the first few weeks of April with a muscle strain in his arm, so the club is already down two of their top four starters. Scott Kazmir was solid last year but has a long injury history, and we really have no idea what Sonny Gray can do over a full MLB season. Jesse Chavez , who has made two starts out of 191 career appearances, is currently penciled in as the No. 4 starter. Dan Straily and Tommy Milone round out the opening day rotation with Drew Pomeranz the sixth starter in Triple-A. Ace setup man Ryan Cook will miss the start of the season with a shoulder issue. The A's always seem to cobble together a quality staff, but this year's team feels more vulnerable than the last few.
5. Are the Seattle Mariners ' young players finally going to take a step forward?
When the Mariners signed Robinson Cano to a ten-year, $240 million contract over the winter, I think many people assumed more spending would follow. At least I did. Instead, they made some minor pickups like Corey Hart and Logan Morrison , but that's it. The only starting pitchers they signed were Randy Wolf and Scott Baker, the latter of whom was released yesterday. Very weird offseason in Seattle.
If the Mariners plan to contend while Cano, Felix Hernandez and the currently injured Hisashi Iwakuma are still in their prime, they're going to have to do it soon, meaning their young players need to take steps forward in 2014. The Cano signing blew the window of contention wide open. Kyle Seager broke out last year, but others like Justin Smoak and Dustin Ackley have spun their wheels. All eyes will be on shortstop Brad Miller , catcher Mike Zunino , and starters Taijuan Walker and James Paxton this summer. (Miller has been outstanding this spring but Walker has been slowed by a shoulder issue.) I can't help but wonder what changes will be made if the team has another poor season.
Show Comments
Hide Comments