Fixing the Yankees: Trade deadline targets for New York's many needs
The Yankees have a lot of holes thanks to all their injuries, but luckily for them the trade market will offer plenty of solutions in July.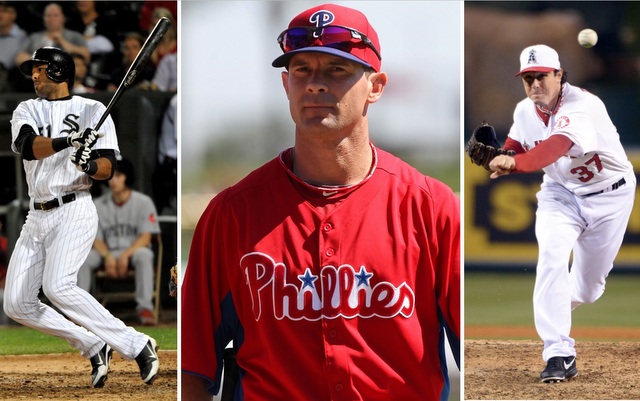 More MLB: Scoreboard | Standings | Probable Pitchers | Sortable Stats | Odds
Despite their laundry list of injuries, the New York Yankees remain right in the thick of the playoff race at 46-39. They're six games back in the AL East and just 1½ games back of the Orioles for the second wild-card spot, and those two teams meet for three games in the Bronx this weekend.
The Yankees typically handle all of their roster-building business in the offseason -- their last significant trade-deadline pickup was Bobby Abreu way back in 2006. They tend to tinker and seek out marginal upgrades at the deadline rather than a cornerstone piece. That might change this year due to the injuries, however.
As GM Brian Cashman has shown in recent weeks, he's willing to make even the tiniest of moves if it improves his team. For example, the Yankees went from Reid Brignac to Alberto Gonzalez to Luis Cruz at shortstop in the past two weeks or so. Cashman might have to seek out more significant upgrades this month, and at several key positions. Here's a look at their needs and some potential trade-deadline targets.
NEED: CORNER INFIELDER
Perfect Fit: Michael Young , Philadelphia Phillies
Alternative: Placido Polanco , Miami Marlins
Although Alex Rodriguez (hip) just started a minor-league rehab assignment, Mark Teixeira (wrist) is done for the season and Kevin Youkilis (back) is out until at least September. Lyle Overbay has done all he can to hold down the first-base fort (87 OPS+), but the Yankees have gotten nothing out of their various third basemen (65 OPS+). Rookie David Adams has gotten every chance to show he belongs, but it hasn't happened yet (45 OPS+).
The Phillies are spinning their wheels at 41-45, 8½ games out of both the NL East lead and a wild-card spot. They've yet to decide to sell -- last summer's Shane Victorino and Hunter Pence trades show they are willing move players at the deadline if need be -- but whenever they do, Young figures to go. He's enjoying a bounceback year with the bat (102 OPS+), and he would give New York a full-time third baseman until A-Rod returns and a platoon partner/replacement for Overbay after that. Young is due to become a free agent after this season and the Rangers are paying the bulk of his $16 million salary.
Polanco hasn't hit much this season (62 OPS+), but he would be an upgrade over Adams until Rodriguez gets back in the lineup. The Yankees value intangibles like clubhouse skills and big game/World Series experience, something both Young and Polanco provide.
NEED: CATCHER
Perfect Fit: Jonathan Lucroy , Milwaukee Brewers
Alternative: Carlos Ruiz , Phillies
Yankees catchers have hit a woeful .203/.259/.262 since a foul tip broke Francisco Cervelli hand on April 26. Cervelli just suffered an elbow-related setback during his rehab and is not expected back until sometime in August, putting New York in quite the catching bind. Life after Jorge Posada has been harsh.
The Brewers have the third-worst record in baseball and are expected to shop everyone not named Ryan Braun , Carlos Gomez and Jean Segura before the trade deadline. Lucroy would be one of their most valuable chips because he's young (just turned 27), a league-average hitter (98 OPS+) and signed affordably (owed a bit more than $9 million through 2016). He would solify New York's catching situation both this year and into the future.
A hamstring injury and 25-game amphetamine-related suspension have limited Ruiz to just 30 games this year, and so far he has been unable to repeat last year's monster season (148 OPS+). The Yankees would be more than happy with his 2009-11 production, however (113 OPS+). Like his teammate Young, Ruiz will be a free agent after the season.
NEED: CORNER OUTFIELDER
Perfect Fit: Alex Rios , Chicago White Sox
Alternative: Nate Schierholtz , Chicago Cubs
Curtis Granderson (hand) has yet to do anything more than swing a bat underwater as part of his rehab, so the Yankees are stuck riding the aging bats of Ichiro Suzuki (92 OPS+) and Vernon Wells (74 OPS+) for another few weeks. Switch-hitting rookie Zoilo Almonte has hit well in the two weeks since being called up (117 OPS+) and has temporarily lessened the need for another outfield bat.
The White Sox are "open for business" according to Jon Heyman of CBSSports.com, as long as you don't ask about Chris Sale or Paul Konerko . Rios has been very up and down the last five years, but he was great in 2012 (125 OPS+) and has been solid this season (103 OPS+). The Yankees have an 86 OPS+ against left-handers as a team in 2013, something the right-handed Rios would help correct (135 OPS+ vs. LHP). He is also under contract for next season, which would help a team expected to lose Granderson to free agency and deal with likely diminishing production from Ichiro/Wells because of age.
The Yankees pursued Schierholtz this offseason, but he took more playing time with the Cubs instead. The lefty bat is in the middle of a career year (126 OPS+) that would probably be made even better by Yankee Stadium's short right-field porch. As a bonus, Schierholtz would remain under team control as an arbitation-eligible player in 2014.
NEED: MIDDLE RELIEVER
Perfect Fit: Scott Downs , Los Angeles Angels
Alternative: Michael Pineda , Yankees
David Robertson and Mariano Rivera form arguably the best setup man-closer combination in baseball, but the Yankees could use a little more help in the middle innings -- the team's relievers other than Rivera and Robertson have a mediocre 3.92 ERA and 1.37 WHIP. They're likely to unload Joba Chamberlain (72 ERA+) on the first taker at the trade deadline, and lone lefty reliever Boone Logan hasn't been all that effective against left-handed hitters (130 OPS+ against).
If the Angels, who are 41-44 and 6½ games back of a wild-card spot, decide to sell players at the deadline, impending free agent Downs would make sense for New York. He's death on lefties (30 OPS+ against) and would give manager Joe Girardi another option for late-game matchups. The Yankees are currently carrying an eight-man bullpen and dumping Chamberlain for an extra bench player would be addition by subtraction at this point as well.
Pineda, meanwhile, will make one final minor-league rehab start on Saturday before his rehab clock expires early next week. At that point the team must activate him off the DL and either put him on the big-league roster or option him to the minors for more seasoning. It seems likely he'll be optioned at the moment. Andrew Marchand of ESPN New York reported that he hears the team has not ruled out using Pineda as a reliever down the stretch if need be, which would not be the first time the team used a highly regarded young starter out of the bullpen during a second-half playoff push. This is one hole they might fill internally.
Show Comments
Hide Comments
Our Latest Stories
Abbott struck out 13 while throwing 106 pitches in the dominant outing

The Rangers could extend Nomar Mazara next

Sanchez has allowed only two hits in his last 14 innings, including six no-hit innings on...
With the Nationals take the NL East again, or will the Mets steal it? Or will someone shock...

The deal buys out Odor's first two years of free agency

The retired slugger told some Miami students as much