For whiffing on A-Rod trade, today Red Sox fans are the lucky ones
Just when we wondered whether Alex Rodriguez could look even worse, '60 Minutes' reveals that a member of A-Rod's inner circle ratted out Ryan Braun and Francisco Cervelli.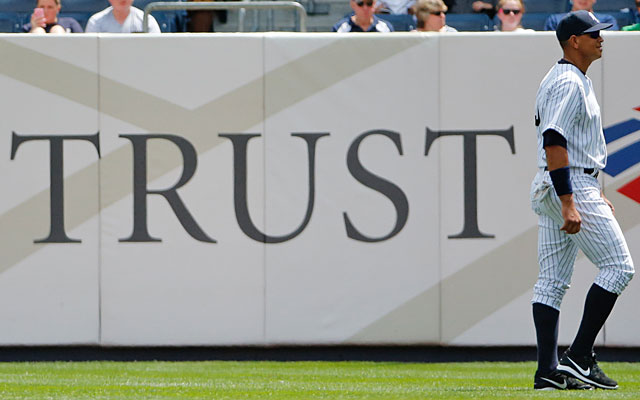 As I was saying, we can't even believe Alex Rodriguez is his real name. ...
Today, it's A-Rat.
Systematically, and soon, we will undoubtedly be forced to begin working our way through the planet's other species. Assorted rodents and canines are on deck. Surely, the characteristics of a warthog eventually will come into play.
Can't wait to see what tomorrow's portion of the program brings. Especially since the Yankees are nestling into Fenway Park for the weekend.
Where's Jason Varitek when you really need him?
We already knew the pathological A-Rod is an insecure and serial cheater with the scruples of a felon and the brains of a Stooge. We didn't need 60 Minutes to tell us that.
But where 60 Minutes now shines its light, into the fungus-covered corner of a world in which A-Rod's inner circle leaked documents implicating Ryan Braun and Francisco Cervelli (a Yankees teammate, even!) in a desperate and stupid attempt to do something, is brazen and creative new ground. Even for A-Rod.
No wonder Braun quickly surrendered and accepted that 65-game suspension. He could have woken up with a horse's head in his bed.
Turns out, failing to complete the A-Rod deal with Texas in 2003 was Boston's greatest-ever victory over the Yankees. Without question. Not even close.
And the late George Steinbrenner's zinger upon acquiring A-Rod in February 2004, in hindsight, is best replayed now to a soundtrack of kazoos and Whoopie cushions:
"We understand that John Henry must be embarrassed, frustrated and disappointed by his failure in this transaction. Unlike the Yankees, he chose not to go the extra distance for his fans in Boston."
Far be it from me to school the whip-smart Red Sox fans as they go about their baseball business in what is setting up as another memorable season for them, but ...
Suggested signs to bring along this weekend in Fenway:
A-Rod's leaks go the extra distance
Today we consider ourselves the luckiest fans on the face of the earth
We'd like to thank the Good Lord for making HIM a Yankee
If Steinbrenner were alive today, none of this would be happening. He long ago would have figured out a way to go the extra distance to go all Howie Spira and cut A-Rod off at the legs. Or better yet, after a couple years of this act, he would have been way too smart to put the Yankees in position to hand over the organizational keys to a megalomaniacal boob who for years has viewed himself as bigger than the game.
Sadly for the Yankees, George's sons are not that savvy. So when A-Rod sent word in the middle of Game 4 of the 2007 World Series that he was opting out of his first record-setting contract -- Exhibit A in his Bigger Than the Game view of the world -- the Yankees asked how high they could jump.
They went 10 more years and $275 million worth high.
"Does he want to go into the Hall of Fame as a Yankee, or a Toledo Mud Hen?" Hank Steinbrenner snarled at the time.
Now, he apparently wants to go in as Barry Bonds. Oops.
The Red Sox have sailed to two World Series titles since they failed to "go the extra distance" to obtain the Sultan of Steroids from the Rangers. And they have a chance to make it three this year.
The Yanks have won one since they wrestled A-Rod from the clutches of Franchise Sweet Caroline, er, Franchise Sweet Holy Jesus Did We Dodge a Bullet When Those Rangers Talks Broke Down. And, the Yankees have a chance to ... keep it at one this summer while waiting to see whether A-Rod takes a baseball bat to any more knees and skulls of the teammates he professes to love.
Just as he did in mixing metaphors that weekend in Trenton, NJ, when he spoke of a "pink elephant" in the room, A-Rod has screwed this one up, too.
It is the clean players who are supposed to turn in the cheaters, A-Rod.
If you're one of the cheaters, mum's the word while you cower in the corner and hope the cops keep walking past your scuzzy little hideout.
Got that?
Lawyered up to the point where he's practically in a straightjacket, A-Rod's main suit, David Cornwell, issued a statement to 60 Minutes that "the allegations are untrue and are another attempt to harm Alex -- this time by driving a wedge between Alex and other players in the game."
Yet it is Rodriguez who continues to inflict the greatest harm of all upon himself. And he has been doing it for years. By gobbling steroids like Cracker Jack, by holding a somber press conference in the spring of 2009 asking to be judged from "this day forward," then by gobbling more steroids like Cracker Jack.
Given every chance to proclaim his innocence in Chicago upon returning to the Yankees earlier this month, he couldn't.
Instead, he whined, "The last seven months has been a nightmare. Probably the worst time of my life, for sure."
Ah, Boston ... he could have been yours.
At this moment, the only thing more appealing than the "best interests of baseball" clause is a wand and a magician's hat. Someone who can make him go away for good.
Someone with the power to wave that wand and maybe turn him into ... A-Bunny.
Show Comments
Hide Comments
Our Latest Stories
Fans in Puerto Rico are very proud of their players for their WBC effort

The bat-flipper extraordinaire wants MLB players to know latin players mean no disrespect

USA claimed their first WBC title on Wednesday. How would this roster perform during an MLB...
Raisel Iglesias hurt his elbow and hips taking a misstep in the shower

Forbes has named Cubs executive Theo Epstein the world's greatest leader

Kinsler seemed to disparage players from Puerto Rico and the Dominican Republic for showing...