Four Pete Rose gambling checks to be auctioned off
Four checks, totaling $26,500, written by Pete Rose in 1987 for gambling purposes are being auctioned off online, beginning Saturday.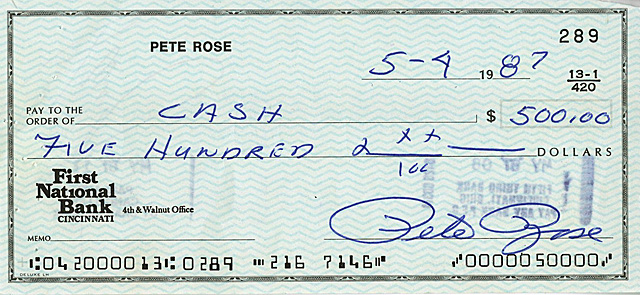 Want to buy four checks that Pete Rose used to gamble with? You can do it, beginning Saturday on goldinauctions.com. Bids can be made online, with a minimum bid of $2,500.
The checks are all made out to "cash," with individual values of $500, $8,000, $8,000 and $10,000, respectively. Pages 24-27, 107 and 117 of the 225-page Dowd Report -- that ultimately led to Rose being banned from baseball for life -- are also included in the package being auctioned off. Those are the pages in which these four particular checks were referenced.
I'll be interested to see how much someone wants to pay for these. Oh, and yes, they've been cashed.
Hat-tip: ESPN.com
Show Comments
Hide Comments