Freddy Galvis diagnosed with MRSA; Phillies' clubhouse being disinfected
The Phillies' spring training clubhouse is being disinfected due to concerns about MRSA.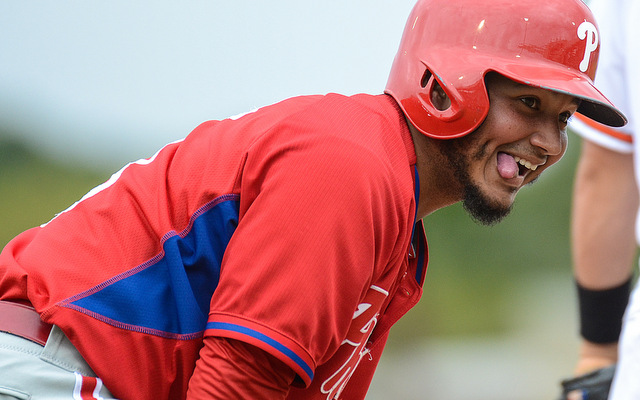 MORE: Spring Training | Scoreboard | Team previews
UPDATE: Amaro told reporters that Galvis has indeed been diagnosed with MRSA.
* * *
Earlier on Friday, the Phillies announced infielder Freddy Galvis will begin the season on the DL due to a staph infection in his leg. That is not the only concern, however. Ryan Lawrence of the Philadelphia Daily News reports Galvis is also being tested for MRSA.
"I'm not really sure what the timetable would be if it's just a staph infection," said GM Ruben Amaro Jr. to Lawrence. "But right now, we're more concerned about his overall health than anything else. We'll see how it goes. We'll find out a little more about it when they do some more studies today."
Amaro confirmed the team's clubhouse at their spring training complex in Florida will be disinfected following their afternoon Grapefruit League game. In addition to Galvis, both Domonic Brown and top prospect Maikel Franco are out sick, though it's unclear if the illnesses are related.
Galvis cut his left leg sliding into a base earlier this month. The wound became infected and he had to have an abscess removed a few days ago. He is currently on antibiotics.
MRSA is a bacteria that can lead to several infections, all of which are difficult to treat because they are resistant to common antiobiotics like penicillin.
Three players on the NFL's Tampa Bay Buccaneers were diagnosed with MRSA in 2013.