From secret throwing sessions to 4-1, 1.41: The incredible Ben Sheets story
When Ben Sheets began his comeback attempt, he was so unsure of himself that he didn't tell anyone he was trying it. That was five months ago. Now he's 4-1 with a 1.41 ERA through five starts with the Braves, and everyone knows what he's doing.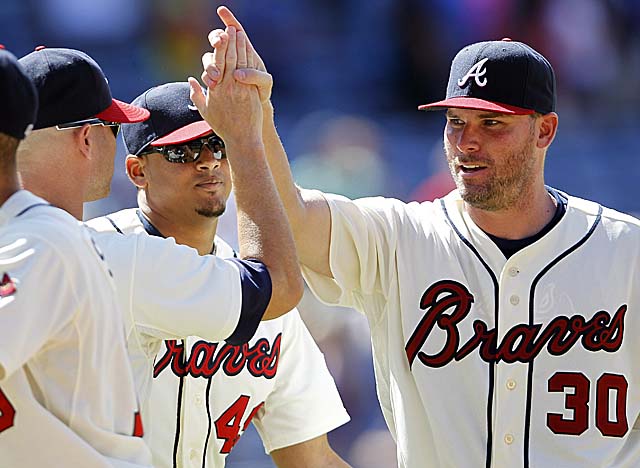 Sheets, who the Braves signed in late June, thought his career was over midway through 2010. (Getty Images)
NEW YORK -- The Ben Sheets story is a great one.

"Only if it ends good," Sheets said Friday.

No, it's already great. It's great, regardless of what happens next.

It's great because two years after he thought his career was done, Sheets is 4-1 with a 1.41 ERA through five starts for the Braves.

It's great because when Sheets first started contemplating his comeback to the big leagues, he had so little certainty that it would work that he didn't even tell his wife what he was doing.

"I was throwing at night, at home, so nobody would know," Sheets said.

He'd play catch with his son, and then he'd take a bucket of balls and one by one start throwing them at the wall. Then he'd go pick them up and start it again.

He didn't want to tell anyone what he was doing, because he wasn't sure what it would lead to. He didn't want to get stuck explaining to everyone that he couldn't do it -- if he couldn't do it.

He hadn't pitched since the middle of the 2010 season, which was also a comeback year, because before that, he hadn't pitched since 2008. He'd had elbow problems then, and he had worse elbow problems in 2010.

The doctor who operated on him, Keith Meister, told MLB.com this week that Sheets' elbow was the worst he'd ever seen.

"He had torn everything off," Meister said. "It was basically skin holding his elbow together on either side. It's one of those things where you make an incision and you're looking inside the joint, and there's no muscle, there's no ligament and there is no tendon."

And yet, Sheets says it was a text message from Meister that got him thinking about a comeback.

"He said, 'Why don't you try to get somewhere in the second half?'" Sheets said.

So he started throwing, not knowing where it would lead him, not at all sure it would lead him anywhere.

He coached his son's baseball team, and he kept throwing. He still wasn't sure where it would lead, but he felt good.

He says now he's not really sure what was motivating him, that maybe it had something to do with not being forced out of the game by an injury.

"I hope to leave the game on my own terms," he said.

So he threw, and eventually his wife and friends did realize what he was doing. He threw, and eventually it was good enough that he was ready to show teams he could pitch.

There was a June 28 simulated game at Georgia Tech, with much of the Braves front office (and scouts from four other teams) in attendance. And then there was a deal with the Braves, who needed help in the rotation and never expected it would come from Ben Sheets.

Now, five starts in, he looks like one of the best pitchers any team added at midseason. Five starts in, he looks like the guy who once was a first-round draft pick, the guy who made it to four All-Star Games and was picked to start one of them.

He looks as good as ever -- except he says he's not.

"No," he said. "Simple answer -- no. The stuff's not close [to what it was]."

It's been good enough so far. It's good enough to make the Braves happy with their investment.

"I hope they're still saying that in two months," Sheets said.

If he keeps winning, they will. And even if he doesn't keep winning, I'll say this:

What a story.


Show Comments
Hide Comments