Fun with paces: The mighty Braves
The Braves are on fire to start the season. Just for fun -- and to show just how 'on fire' they are -- let's check out some of their on-pace numbers.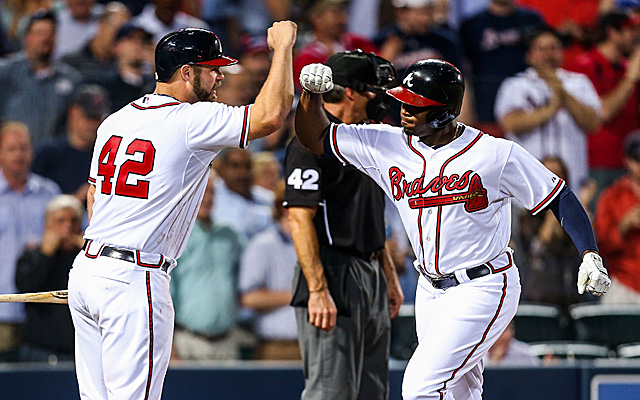 More MLB: Scoreboard | Standings | Probable Pitchers | Sortable Stats | Odds
The Atlanta Braves have stormed out of the gate this season with a 12-1 start and have outscored opponents 68-26.
Now, this is generally about the time the Small Sample Police show up and tell us that things are "unsustainable" and there will be a "regression to the mean" and things like that. It's rather obvious, and I've done it before -- because it's still true that far too many fans overreact to what we see early in the season -- but sometimes it seems like a certain segment of the baseball population wants us to not analyze anything we've seen until at least half the season is completed.
I mean, do we have to be so serious all the time?
To hell with that. Let's see just how ridiculous a start the Braves have had by examining what they're on pace to do. This isn't to say they'll come even close to doing any of this (because they really, really won't). Instead, it's a decent way to look at just how hot the Braves have been to open the season. These projections are based on what the Braves have done through Tuesday.
The Braves are on pace to go 150-12.
Justin Upton is on pace to hit 99 homers with 149 RBI and 162 runs.
Upton has a .900 slugging percentage. The MLB single-season record (qualified candidates only) is Barry Bonds with .863 in 2001. In fact, Bonds and Babe Ruth hold the top six spots. Bonds, Ruth and Lou Gehrig hold the top eight. The highest single-season slugging percentage ever for a right-handed hitter is .756, which was Rogers Hornsby's mark in 1925. For those who aren't aware, Upton is right-handed.
The Braves as a team are on pace to hit 312 home runs. The MLB record is 264 (1997 Mariners). Only four teams have ever hit more than 250 ('97 M's, 2005 Rangers, 1996 Orioles and 2010 Blue Jays).

Paul Maholm

is on pace for 249 strikeouts. His single-season career high is 140.
Rookie sensation Evan Gattis is on pace for 49 homers and 124 RBI. Only one rookie has ever hit more than 40 homers in a season (Mark McGwire with 49 in 1987). Only six rookies have ever accrued at least 125 RBI, with the record being Ted Williams' 145 in 1939.

Dan Uggla

is on pace to hit .178 with 37 homers. Only four players in big-league history have ever even hit at least 25 homers with an average below .200. Rob Deer in 1991 (25, .179), Carlos Pena in 2010 (28, .196), McGwire in 2001 (29, .187) and Mark Reynolds in 2010 (32, .198). 
The team ERA is 1.83. The last time a team had an ERA even as low as 2.45 was the 1967 White Sox.
Enjoy the ride, Braves fans. And feel free to point out Freddie Freeman, Jonny Venters and Brian McCann are on the DL, B.J. Upton and Jason Heyward are capable of much better than they've shown and the Braves have gotten nothing out of their No. 5 starter (Julio Teheran).
Likewise, non-Braves fans can now point out how impossible it is to maintain any of those above paces. Because it is.
So, really, everybody wins -- just like the Braves do basically every day. 
UPDATE: Not surprisingly, the Braves lost Wednesday, 1-0. I need to figure out how to use my karmic powers for a greater good.
Show Comments
Hide Comments
Our Latest Stories
Valencia has been considered a platoon player for much of his career

Jones said USA used Puerto Rico championship shirts and parade plans as motivation for the...

Regarding the impact of the World Baseball Classic, the commish has a few things to say
The fourth installment of the WBC was an overwhelming success

First spring at-bat? No problem. Arrieta goes downtown to the tune of 465

The Yankees seem to be shooting down offers for veteran shortstops across the league