Giants, red-hot closer Romo have agreed to wait to talk contract
The San Francisco Giants and closer Sergio Romo will likely wait until after the year to discuss a new deal.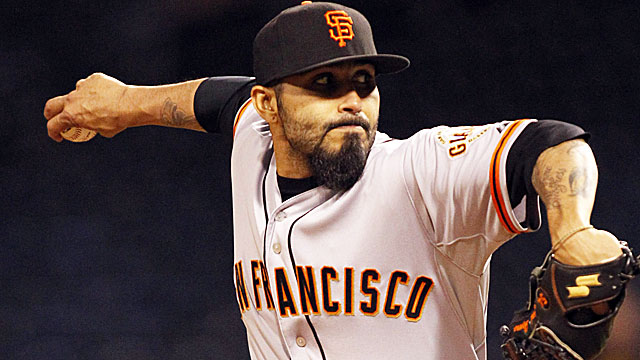 The San Francisco Giants are said to want to extend star closer Sergio Romo , who's off to a big start, but any contract talks will likely wait, possibly until the season's over.
The sides have agreed for now not to let talks disrupt the season -- though the sides are said to be "open" to re-engaging. In the meantime, Romo is setting himself up for a decent-sized payday with a terrific start to his walk year.
With incumbent teams holding options on other top closers Rafael Soriano ($14 million) and Huston Street ($7 million), Romo could be viewed as the top free-agent closer in his prime. The market will be far from bad, however, as no one's having a better year than Brewers closer Francisco Rodriguez , and other free-agent closers could include Jason Grilli , LaTroy Hawkins , Casey Janssen and Jim Johnson (and potentially, Soriano and Street, depending on their 2014 seasons).
The Giants have an excellent record of keeping their better players with long extensions, including deals for Buster Posey , Matt Cain , Hunter Pence , Tim Lincecum , Jeremy Affeldt, Javier Lopez and Angel Pagan . Pagan signed after becoming a free agent, Lincecum re-signed days before he would have filed for free agency, and Pence became a rare Giants player to sign during the season, when he agreed to a $90 million, five-year deal with a couple games left in the 2013 season.
Romo, who took over as closer for injured star Brian Wilson in 2012 and helped the Giants to a second World Series title in three years that year, is 10 for 10 in saves this year with a 1.88 ERA and a 2-0 record. Romo, 31, made the All-Star team last year when he saved 38 games, and generally has been even better since moving from the set-up role.
Show Comments
Hide Comments