Giants want Brian Wilson back
A Giants executive said he believes Brian Wilson is "a Giant for life." Reports say the Angels and Dodgers aren't interested in the former Giants closer, who underwent Tommy John surgery early in 2012.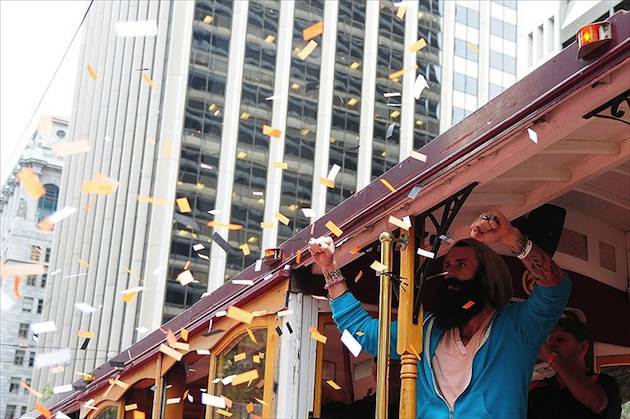 Brian Wilson didn't play in the World Series, but still got to celebrate. (US Presswire)
Brian Wilson's time in San Francisco may not be be over despite the fact he was non-tendered by the Giants last week.
Bobby Evans, the Giants' vice president of baseball operations, told MLB.com's Chris Haft that he wants Wilson back with the Giants despite the fact the team declined to offer him a minimum of $6.8 million after missing most of the season following Tommy John surgery. Wilson made $8.5 million last season and under baseball's collective bargaining agreement, the team couldn't offer him a cut of more than 20 percent.
"I think Brian's a Giant for life, and he'll hopefully be a guy who'll consider coming back here as he evaluates his options," Evans said.
The Dodgers and Angels have already said they don't have interest in Wilson, who lives in Los Angeles in the offseason. The Red Sox and Yankees have also been mentioned as possibilities, but as time goes on, it's looking more and more like Wilson could return to San Francisco, despite the fact he was reportedly unhappy with his old team.
Giants manager Bruce Bochy said Monday that he was planning on calling Wilson in the near future.
"Sometimes things don't go as smoothly as you would like, but you don't forget the contribution he made to the Giants," Bochy told Alex Pavlovic of the San Jose Mercury News. "It's just part of the business."
Bochy was apparently involved in the re-recruitment of Angel Pagan and of the still unsigned Marco Scutaro.
For more baseball news, rumors and analysis, follow @EyeOnBaseball on Twitter, subscribe to the RSS feed and "like" us on Facebook.
Show Comments
Hide Comments