GIF: Eric Sogard catches line drive, gets knocked down by broken bat
Athletics infielder Eric Sogard had a choice to make on Thursday: either catch a line drive or dodge the broken bat flying towards him.
More MLB: Scoreboard | Standings | Probable Pitchers | Sortable Stats | Odds
It's amazing we don't see this happen more often. On Thursday afternoon, Athletics infielder Eric Sogard was hit by a broken bat as he fielded a soft line drive. Since the MLB.com video is not yet embeddable, here's a GIF: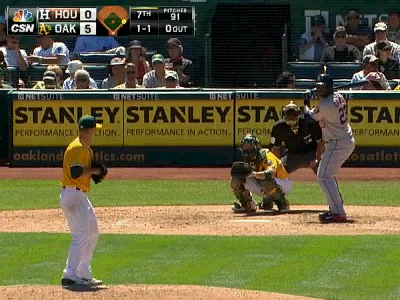 Sogard stayed in the game and was fine, but the end of that broken bat was really sharp and could have done some serious damage. He's pretty lucky this wound up a blooper rather than something more serious.
Like I said before, it's amazing this doesn't happen more often. I guess most broken bats wind up in foul territory or in the shallow infield.
Show Comments
Hide Comments
Our Latest Stories
A storm and slow drainage is to blame for the flooded field

Yoenis Cespedes, Jose Abreu, and Yasiel Puig headline the lineup

Batting practice? We're talking about batting practice?
MLB is working with Rawlings to produce a baseball with natural tact

No, this isn't one big marketing gimmick for the Mets. Why do you ask?

Scherzer has been dealing with a stress fracture in his right ring finger since last seaso...