GIF: Ice water is no match for Jenny Dell
Following a recent Red Sox comeback win, NESN reporter Jenny Dell was remarkably unfazed after being doused in celebratory ice water.
More MLB: Scoreboard | Standings | Probable Pitchers | Sortable Stats | Odds
This isn't particularly new -- it's from the moments following the Red Sox's improbable comeback win on Aug. 1 -- but it merits your rapt attention nonetheless.
Jenny Dell, the lovely and talented NESN sideline reporter (this role should really be referred to as "foul territory reporter," but I have not the will to fight that battle right now), was attempting to engage Jonny Gomes in some postgame adult conversation when a cresting wave of celebratory ice water bore down on her.
As the following action-news footage will prove, the prepossessing Ms. Dell has, when she needs to call upon it, a schoolmarm's composure and a zealot's indefatigable sense of mission ...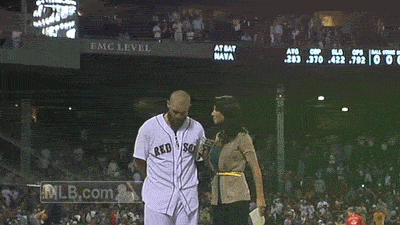 That, lads, was the glistening hair-flip that launched a thousand ships. Or a billion. Who can tell with that many ships.
(Wink of CBS eye: Official MLB Tumblr)
Show Comments
Hide Comments
It came in a tight spot against the Cubs on Friday night

The Louisville Bats know how to make the best of a bad situation

He hit his 10th of the season against the Orioles on Friday night
A familiar face is headed back to Toronto

The decorated gymnast was on hand to throw out the first pitch on Friday

It has to do with their performance before the All-Star break and their very different performance...