GIF: Salvador Perez throws runner out from knees, tips cap to dugout
Salvador Perez threw the speedy Brian Dozier out from his knees on Thursday night. Then he tipped his cap to his teammates in the dugout.
Royals catcher and perfume-wearer Salvador Perez is one of the best catchers in baseball by just about any measure. The 24-year-old went into Thursday night's game hitting .265 with a career-high 15 home runs, and he also has a cannon for arm.
Don't believe me? Perez threw out 20-stolen base man Brian Dozier from his knees in the ninth inning of a tie game on Thursday. He was out by a mile too. To the action footage: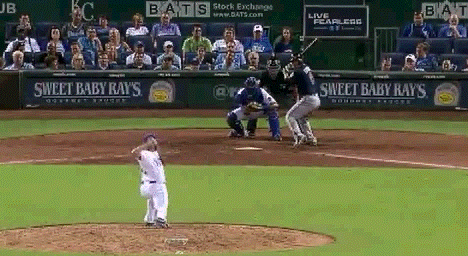 First things first: holy smokes what a throw. That was absolutely perfect.
Also, be sure to note the tip of the cap to his teammates in the home dugout. If I made a play like that, you can bet I'd want to gloat a bit. What a stud this kid is.
Show Comments
Hide Comments
Our Latest Stories
Kazmir will begin the season on the DL

Tebow struck out twice against Scherzer and got a taste of an elite fastball

It seems unlikely Las Vegas will be atop MLB's list of destinations whenever they expand or...
The Raiders are moving to Las Vegas, but the A's remain committing to staying in Oakland.

Canseco is joining NBC Sports California to provide Athletics coverage this year

Mike Trout played a little prank on the Angels former pitching coach with the help of his...