GIF: Trevor Bauer's curveball buckles Troy Tulowitzki's knees
Indians right-hander Trevor Bauer made Troy Tulowitzki jelly-leg with a nasty curveball on Saturday.
More MLB: Tulo leads All-Star Vote | Tulo dominating at home | Bauer brings heat
By just about any measure, Rockies shortstop Troy Tulowitzki has been one of the best players in all of baseball this year. You can make a very convincing argument he has been the very best.
The best players still make outs though. And sometimes they make outs in funny ways. Tulowitzki met his match on Saturday afternoon in the form of this curveball from Indians righty Trevor Bauer: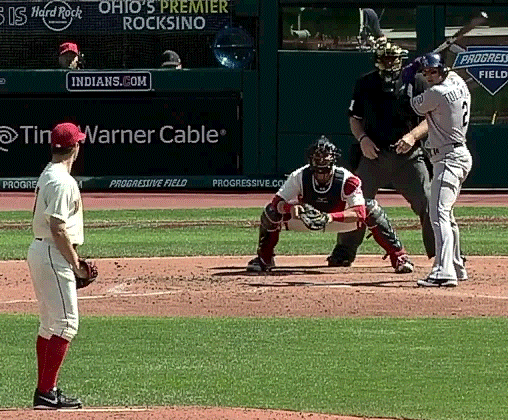 That is an A+ jelly-leg by Tulo. Here's the slow motion version, if you're interested.
Show Comments
Hide Comments
Our Latest Stories
The Giants turn to a rookie starter against Clayton Kershaw, and he delivers

Syndergaard will take the mound at Citi Field as the Mets look to advance to face the Cubs

Gyorko's 30th home run of the season means the Cardinals will play a meaningful Game 162
The Mets are heading back to the playoffs as a wild card team

Here's a look at the postseason race standings on the final weekend of the regular season

The Mets are going to the playoffs in back-to-back years for only the second time in team...