GIF: Yasiel Puig fails at basket catch, gets out anyway
Watch on as Yasiel Puig of the Dodgers does something very Yasiel Puig.
More MLB: Power Rankings | Expert Picks | Latest news & notes | Fantasy news
In the second inning of Thursday's Dodgers-Giants tilt, Dodgers outfielder Yasiel Puig attempted a leisurely snare of a fly ball off the bat of Brandon Hicks. Said snare did not go as planned, but as you'll soon see it worked out in the end for the plucky and lucky Mr. Puig ...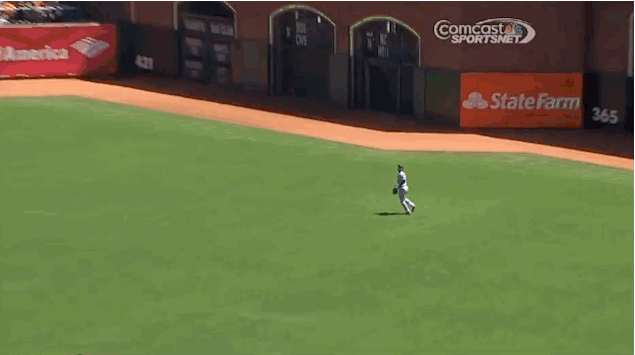 That's your garden-variety 9-6 putout! 
Remember kids, always use two hands unless you're going to hose down the lead runner anyway. 
Show Comments
Hide Comments
Hammel was pulled after only 39 pitches and 2 1/3 innings Saturday

An unknown team claimed the veteran right-hander off trade waivers earlier this month

Red Sox starters are 17-10 with a 3.46 ERA since the All-Star break
They gave Scully a number from the Wrigley Field scoreboard and a flag

Goldschmidt is a first baseman, yes, and a quality baserunner

Pedroia went 11 for 11 across three games before hitting into a double play in his final a...