Glen Perkins: The sabermetrics-friendly All-Star closer
All-Star Twins closer Glen Perkins discusses sabermetrics and how he uses them as a major leaguer.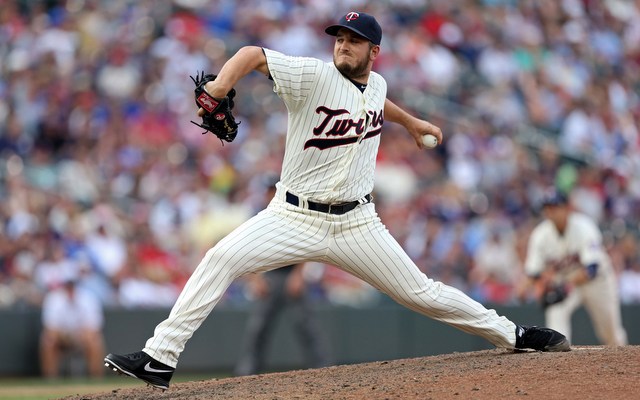 More MLB: Scoreboard | Standings | Probable Pitchers | Sortable Stats | Odds
NEW YORK -- "I keep track of what my FIP is" is not a sentence most major-league pitchers would utter, but Glen Perkins is not most major-league pitchers. In addition to being an All-Star closer for the Twins, Perkins is a fan of sabermetrics.
"I always liked math," said the left-hander at All-Star media day on Monday. "I think I stumbled across FanGraphs when I was in Triple-A in 2010 -- I don't want to say out of boredom -- it was just something that I started reading about, that I gravitated toward, and just continued to learn more and more about."
Since coming back from Triple-A in 2010, Perkins, 30, has emerged as a dominant reliever for the Twins these last three years. Have sabermetrics helped him go from marginal big-leaguer to All-Star? No, not necessarily.
"I wouldn't say I use them. It's not a tool for scouting, for player-to-player," Perkins said. "Some stuff I will use. I'll look at a guy's walks and strikeouts -- if there's a guy with high strikeouts and low walks, or a guy that's pretty even or walks more than he strikes out -- it gives you an idea of what kind of hitter they are.
"For me, it's more just entertainment," he added. "I keep track of what my FIP is, and I know how to keep that low and get it lower, but it's not stuff that I really think pertains to a player playing in a game as much as it is organizations evaluating players."
FIP, by the way, stands for Fielding Independent Pitching. It evaluates a pitcher's performance based on three things they can control (walks, strikeouts, home runs) and expresses it on the same scale as ERA. Perkins comes into the All-Star Game with a 1.79 FIP, the fifth-lowest among qualified relievers.
In 34 2/3 innings this season, Perkins has struck out 47 batters, walked seven and allowed just two homers. He has gone 21 for 23 in save chances with a 1.82 ERA.
Show Comments
Hide Comments