Grading the ALDS: Tigers offense rises from the dead
The Tigers offense and Jake Peavy got high marks. The Rays offense and A's bullpen did not. Grade 'em!
by

Eye on Baseball staff

• 2 min read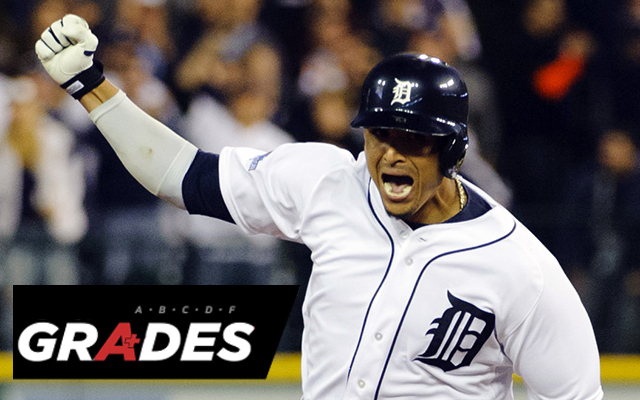 Red Sox win: Quick hits | Farrell shines | Rays RIP   Tigers win: Quick hits | Coco surging
We've seen the Tigers push things to a Game 5 against the Athletics and the Red Sox dispose of the Rays, advancing to the ALCS, Tuesday night. Let's assign things to each of the five letter grades, throwing on pluses and minuses when we please. You know, for fun.
Team
Grade
Analysis
A
After scoring six total runs in the first three games of the ALDS, the Tigers broke out with eight runs in Game 4 to force a decisive Game 5 on Thursday. Jhonny Peralta's game-tying three-run homer in the fifth inning got their foot in the door, but Victor Martinez's game-tying solo homer and Austin Jackson's go-ahead jam-shot single in the seventh pushed it wide open. Omar Infante drove in two ultimately big insurance runs in the ninth. After going quietly in the first four innings, Detroit's lineup scored eight runs on nine hits and three walks in their final four offensive innings. Can't help but think the sleeping giant is now awake. - Mike Axisa
B
Jake Peavy was stellar through five shutout innings. He had allowed only three hits while having not issued a walk. He coughed up a run in the fifth and appeared in trouble, so he was removed. Not getting through the sixth inning is enough to knock him down to a B, but it was still fine work from the right-hander. His previous two postseason starts were awful, too, so this was an experience to build upon. - Matt Snyder
C+
Red Sox offense. The pitching staff was excellent (A-level) and manager John Farrell (A+ level) pulled every string correctly. The Boston offense racked 16 baserunners, which is outstanding. That's a .410 on-base percentage. Due to some bad luck and underperformance with runners on base, however, they were only able to get three runs home -- so that knocks them down. They also scored on a wild pitch and an infield hit, which are flukey but kind of even things out from the bad luck in terms of hitting it right at guys at several points early on. - Matt Snyder
D-
Rays offense. The are spared an F because they faced some pretty solid pitching and were able to temporarily take the lead on a big hit from

David DeJesus

. Overall, though, the Rays didn't draw a single walk. They had the same amount of hits as the Red Sox (six), but the on-base percentage was a pathetic .194. That's not gonna cut it for long when facing an offense as imposing as the Red Sox. - Matt Snyder
F
The usually reliable Athletics bullpen collapsed in a big way on Tuesday. Four relievers, including ace lefty Sean Doolittle and ace righty Ryan Cook, combined to allow five runs on five hits and three walks in just two innings of work to blow Game 4. Eight of the 14 batters they faced reached base, which is spectacularly bad. They didn't just cough up a late lead, they turned it into a four-run deficit at one point. Yeesh. - Mike Axisa
Show Comments
Hide Comments