Grading the Trade Deadline: Padres and Red Sox make solid additions
Now that the trade deadline has passed, it's time to hand out some grades. Did anyone get an "A" this year?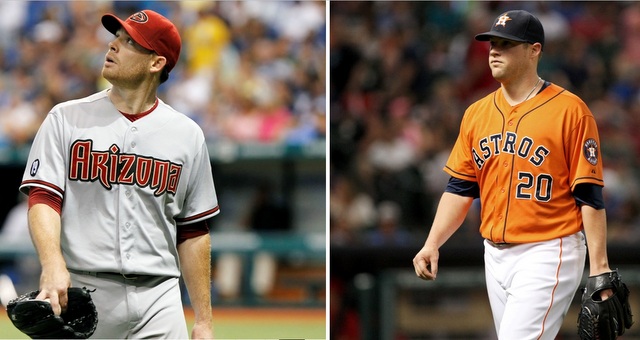 More MLB: Scoreboard | Standings | Probable Pitchers | Sortable Stats | Odds
The 2013 non-waiver trade deadline has come and gone with relatively little activity. Only four trades were completed on Wednesday before the 4pm ET deadline, and one of those four was a very small move involving minor leaguers. Over the last three days, a total of nine trades involving MLB players were finalized.
Now that the dust has settled, it's time to hand out some grades. It's only natural. The trade deadline lends itself to this sort of stuff, and grades lend themselves to looking foolish. Don't like a grade? Don't take it personally, chances are it'll be amazingly wrong when we look back in a few weeks and months, nevermind years.
Here are those nine trades in reverse chronological order, so the first is the most recent, etc. No club made a brilliant, pennant race-altering deal this summer, hence the lack of "A's." Onto the grades.
ORIOLES GET: RHP Bud Norris and international spending pool money
ASTROS GET: OF L.J. Hoes , LHP Josh Hader and a 2014 competitive balance lottery draft pick
| Team | Grade | Analysis |
| --- | --- | --- |
| | B | Hoes, who ranked as the Baltimore Orioles ' sixth best prospect by Baseball America before the season, is a solid young player, but Hader and the draft pick are the keys to the deal for me. Hader is in Single-A ball and is only 19 years old, but lefties who flirt with triple digits with their fastball are hard to find. The draft pick will likely come somewhere in the 25-35 overall range, so basically a first rounder. Nice haul. |
| | C+ | The Orioles have more mid-to-back of the rotation starters than they know what to do with, and they added to that collection with Norris. The 28-year-old is serviceable (104 ERA+ and 1.41 WHIP) and under control through 2015 as an arbitration-eligible player, but Baltimore did not get the ace they need. |
---

ROYALS GET: OF Justin Maxwell
ASTROS GET: RHP Kyle Smith.
| Team | Grade | Analysis |
| --- | --- | --- |
| | D+ | Maxwell isn't anything special, but the the right-handed hitter has a career .253/.370/.455 (128 OPS+) line against lefties. He also plays solid defense, can steal bases, and will strike out a ton. Decent guy to have on the bench. |
| | D | Baseball America said Smith had the ceiling of a number three starter before the season. The 20-year-old is having a strong year, posting a 2.85 ERA with a 3.31 K/9 in High Class-A. It's a very minor deal, for sure, so I'm giving the edge to the big leaguer. |
---

PADRES GET: RHP Ian Kennedy
DIAMONDBACKS GET: LHP Joe Thatcher , RHP Matt Stites and a 2014 competitive balance lottery pick
| Team | Grade | Analysis |
| --- | --- | --- |
| | B+ | The San Diego Padres need pitching, and they landed a guy who had a 137 ERA+ and finished fourth in the Cy Young voting as recently as 2011. Of course, Kennedy's stock is way down thanks to his 74 ERA+ and 1.42 WHIP. He is relatively affordable though (owed less than $2 million for the rest of this year and under control through 2015), so it's a great gamble for a club like San Diego. Big fan of the move from their end. |
| | C | It looked as though the D-Backs would add pitching before the deadline, but instead they shipped out their Opening Day starter from the last three years. Thatcher is shutdown lefty specialist and Stites is having a phenomenal year in Double-A (2.08 ERA and 6.38 K/BB), but the draft pick (tentatively 69th overall) is probably the most valuable thing heading to Arizona in the swap. Two relievers and a second-ish round pick doesn't seem like enough for 2+ years of a durable innings-eater with a 106 ERA+ since breaking into the show for good. |
---

RED SOX GET: RHP Jake Peavy (from Chicago White Sox ) and RHP Brayan Villarreal (from Detroit Tigers )
WHITE SOX GET: OF Avisail Garcia (from White Sox), RHP J.B. Wendelken, RHP Francellis Montas and IF Cleuluis Rondon (all from Boston Red Sox )
TIGERS GET: IF Jose Iglesias (from Red Sox)
Team
Grade
Analysis
B+

After flirting with the Philadelphia Phillies and Cliff Lee , the Red Sox pulled the trigger on Peavy. He's not cheap (owed $14.5 million in 2014) and he's kinda injury prone, but he had a 128 ERA+ just last year and comes with Cy Young pedigree. Peavy will unquestionably shore up the rotation. Villarreal has a live arm but is essentially a throw-in.

B
A Biogenesis-related suspension is looming for

Jhonny Peralta

, so Iglesias gives the Tigers both a short-term replacement and long-term shortstop solution. He isn't expected to hit much despite this year's 114 OPS+, but Detroit is in a position to sacrifice offense for Gold Glove defense.
B
Garcia is the key to the deal for the ChiSox. Baseball America ranked him as the 74th best prospect in the game before the season, and he offers a real nice blend of speed and power potential. Whether he lives up to that potential is another matter entirely, but that's what Chicago is banking on. The other three prospects are all interesting lottery tickets. None are older than 20 and all three are playing in Single-A.
---

ATHLETICS GET: IF Alberto Callaspo
ANGELS GET: IF Grant Green
| Team | Grade | Analysis |
| --- | --- | --- |
| | C+ | The Los Angeles Angels continue to disappoint and this is exactly the kind of trade they should have made. Green, 25,  no longer has the luster that comes with being the 13th overall pick in the draft, but he's hit at each step of the minors and could contribute on the cheap. Callaspo was just a spare part for them. |
| | C | Oakland didn't get the high-end starter they reportedly sought, but Callaspo gives them some infield depth. He's a switch-hitter (91 OPS+) who can play second or third, making him a nice extra guy to have on the roster. |
---

INDIANS GET: LHP Marc Rzepczynski
CARDINALS GET: SS Juan Herrera
Team
Grade
Analysis
D+

It's been a rough year for Rzepczynski (49 ERA+), who has spent the majority of the season on the DL and in Triple-A. He's held lefties to a .224/.298/.310 (67 OPS+) batting line in his career and is under control through 2015. Nice guy to have but not someone who will put a club over the top.

D
The

Cleveland Indians

have shortstop prospects to spare, and spare they did Herrera. The 20-year-old is hitting .275/.366/.369 in short season Single-A ball and did not make the team's top 30 prospects in Baseball America's 2013 Prospect Handbook. Herrera is a lottery tick for baseball's best player development team.
---

RAYS GET: RHP Jesse Crain
WHITE SOX GET: Future considerations
Team
Grade
Analysis
B-

Crain's recent shoulder injury makes this a move something less than a slam dunk. He was dynamite before getting hurt (586 ERA+), but he's currently on the DL and isn't expected to return until mid August. If he returns and pitches like he did before getting hurt, it's a great move. If not, well...

Inc.
The

Tampa Bay Rays

and ChiSox got creative. The player(s) going to Chicago depend on Crain's health, meaning the more he pitches the better the return. Can't do anything here, this is an incomplete.
---

TIGERS GET: RHP Jose Veras
ASTROS GET: OF Danry Vazquez and a player to be named later
| Team | Grade | Analysis |
| --- | --- | --- |
| | B | The Tigers needed bullpen depth, and they added strikeout power pitcher in Veras. He's got a 145 ERA+ and 9.0 K/9 this year, plus his contract includes an affordable $3.25 million option for 2014. Good pitcher? Check. Affordable? Also check. Nice get by the Houston Astros . |
| | C+ | Veras was having a career year, and the Astros parlayed that into the sixth best prospect in Detroit's system (according to Baseball America). Vazquez "projects as a solid hitter with plus power potential" according to publication, and he's hitting .281/.333/.390 with five homers in Single-A. The PTBNL is unlikely to be significant. Nice return for a rent-a-reliever. |
---

BRAVES GET: LHP Scott Downs
ANGELS GET: RHP Cory Rasmus
| Team | Grade | Analysis |
| --- | --- | --- |
| | B- | The Atlanta Braves lost both Eric O'Flaherty and Jonny Venters to Tommy John surgery, so Downs fills a big lefty hole in the bullpen. He's held same-side hitters to a .192/.250/.212 (46 OPS+) batting line this year and will become a free agent after the season. Downs is a great pickup if used properly. |
| | C | The Angels need as much young talent as possible, and Rasmus gives them a serviceable righty reliever for the bullpen. He briefly made his MLB debut this year but otherwise has a 1.67 ERA with an 11.9 K/9 in Triple-A. Rasmus is unlikely to be a future closer to anything, but he's cheap and has more of a long-term future than Downs at this point. |
Show Comments
Hide Comments
Our Latest Stories
Giants southpaw Will Smith likely needs Tommy John surgery

It's unclear whether Kang will be join the Pirates at all in 2017

Can the reigning NL East champs take home the flag again?
Valencia has been considered a platoon player for much of his career

Jones said USA used Puerto Rico championship shirts and parade plans as motivation for the...

Regarding the impact of the World Baseball Classic, the commish has a few things to say