Grading the Week: Giants sweep their way to an A
The Giants earned a high grade for their strong week. One AL Central team impressed as well.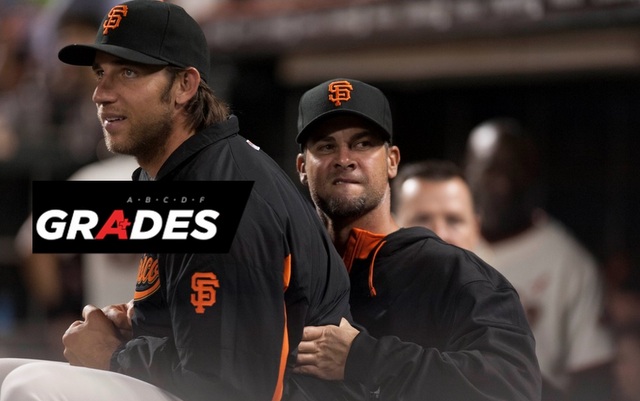 More MLB: Power Rankings | Expert Picks | Latest news & notes | Fantasy news
Another week of baseball is in the books, which means it's time for our weekly grades. As a reminder, we're pretty flexible with our grades. We grade individual series, teams, players, coaches, umpires, whatever. We try to stick to the usual A through F scale but will make exceptions from time to time. Enough with the chitchat, time for this week's grades.
| Team | Grade | Analysis |
| --- | --- | --- |
| | A | The Giants did lose a game this week -- way back on Monday to the Padres -- but it happened so long ago I barely remembered it. The team rallied to win their next five games after that loss, including three straight over the Braves this weekend. They held Atlanta to only three runs in the series. Pretty much the only thing that went wrong this week was Matt Cain, who cut his finger in a kitchen accident and had to be placed on the 15-day DL. San Francisco is 20-11 with a +24 run differential on the season, both the second best marks in the NL. |
| | B+ | Unlike the Giants, the Tigers actually went undefeated this week. They only played five games though, and all five were against a pair of teams with losing records. I dinged them a little bit because of that. No shame in a B+ though, that's pretty good. Detroit has the biggest division lead in the AL (4.5 games) and they've again emerged as a no-doubt contender following the Prince Fielder and Doug Fister trades, not that many people felt they weren't. Just wait until Miguel Cabrera fully hits his stride. |
| | C | The start of their 10-game road trip was pretty terrible: four losses in the first five games. Then Wednesday's contest against the Red Sox was rained out and the impromptu off-day seemed to turn the Rays' fortune around. They swept a doubleheader from Boston on Thursday, won a 14-inning game on Friday, then took the weekend series from the Yankees with a win on Sunday. A 4-3 week is good but not great, though Tampa gets some extra credit for finishing the week so well, with four wins in the last four days. |
| | D | I thought this was a big week for a Brewers. Or at least it had a chance to be a really good week. They played three games against the Cardinals and four against the Reds, all on the road, so it was a chance for them to show they're legit and not just an early season pretender. The result: three wins and four losses, including three in Cincinnati. Meh. Not a bad week by any means, but very mediocre. Bare minimum, really. I was hoping for more. |
| | F | Oh boy. This was not a good week for the Braves. They lost all six games they played, including three to the last-place Marlins. Atlanta was outscored 32-10 in the six games too. Their division lead shrunk from 3.5 games to just a half-game, and they owe the Phillies a steak dinner for beating the Nationals 1-0 on Sunday. Had Washington won, they would have taken over first place in the NL East. Not a good for the Braves. Not at all. |
Show Comments
Hide Comments
Hill has made just two full starts since May 29, so scouts haven't seem much of him

Many of their numbers are nearly identical

The Nationals are willing to trade Giolito for Miller straight up, according to an MLB.com...
The Nationals solved their leadoff hitter problem without making a trade by calling up Trea...

Here is a breakdown of Friday's trade deadline buzz

Many contenders have gone on to win the World Series without making a splashy trade