Grading the Week: Indians heating up again
Time to hand out grades. On this week's report card, the Indians, Phillies, Orioles, Athletics and Royals.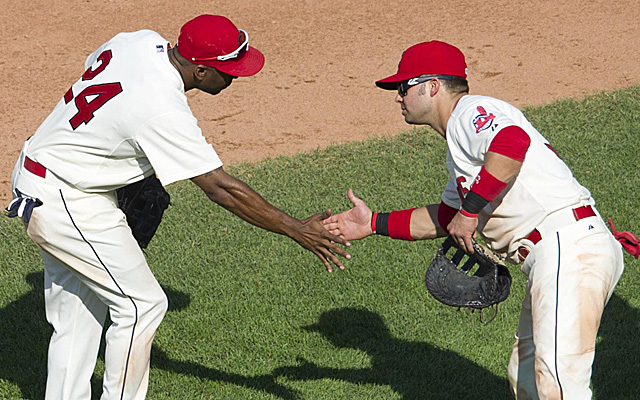 More MLB: Scoreboard | Standings | Probable Pitchers | Sortable Stats | Odds
Another week in the books (and a week, for our purposes, is Monday through Sunday -- since that's the time period where each team plays two complete series in the overwhelming majority of the season), another Sunday night of grading fun. As always, for purposes of brevity, we're just giving out one letter grade to a team, giving us five total under the microscope.
This doesn't mean more wasn't notable. For example, the Red Sox just took a series from the Dodgers. This is the first time in over two months that the Dodgers have dropped a series.
| Team | Grade | Analysis |
| --- | --- | --- |
| | A | The streakiest team in baseball is at it again. This time it's a peak, not a valley. After losing a series to the A's, the Indians went 5-1 this week and sit just 1.5 games back of Oakland in the wild-card standings. They even won despite four errors on Sunday. Also, bonus points for Jason Kipnis and Carlos Santana homering for a boy with cerebral palsy on Saturday. Everything is going well right now -- which previously this season has meant a bad stretch is right around the corner. For this week, though, they get an easy A. As Nick Swisher might say, that's "brotastic." |
| | B+ | At this point in the season, I generally leave the grades to contenders because they are obviously far more relevant than non-contenders. This was the first full week the Phillies played under new manager Ryne Sandberg, however, so they were relevant. The 5-2 record and a successful return for Roy Halladay mean it was a success. |
| | C | Lost two of three to the Rays, won two of three against the A's. Right in the meaty part of the curve. For the Orioles' chances of making a trip to the postseason in back-to-back seasons, this simply isn't good enough. They are actually three games below .500 (13-16) since July 22. That leaves them two games back of the second wild card and needing to jump over the Indians. A winning streak is overdue. |
| . | D | By the same token, the A's had a six-game lead in the AL West on July 30, prior to losing to Texas that day. After going 2-4 this week against the Orioles and the mediocre-at-best Mariners, the Athletics trail the Rangers by 2.5 games and have just a 1.5 game lead over the Indians for the second wild card spot. Their once very promising playoff odds shrunk to 68.3 percent (per Baseball Prospectus) and that was before Sunday's loss. |
| | F | The Royals aren't long removed from being the hottest team in the American League, but they're now among the coldest. They salvaged Sunday's game against the Nationals, but went 1-5 this week and have lost 10 of their last 13. Earlier this week, they were swept by the White Sox -- otherwise known as the American League's worst team that doesn't call Houston home. Worse yet, the Royals are now seven out of the second wild card with the Indians, Orioles and Yankees all closer. A few weeks ago, I said if the Royals made the playoffs either this year or next, that would make the Wil Myers trade justifiable. If they don't, I would say it shouldn't have happened. It looks like they'll have to make it next year, because right now this isn't a playoff-caliber team. |
Show Comments
Hide Comments
Our Latest Stories
The Red Sox missed an opportunity to clinch the AL East title as well

Here's a look at the postseason race standings with five days left in the regular season

Diaz grew up with Fernandez
Fernandez's family will hold a public viewing on Wednesday

Kluber will be ready to return in 7-10 days

The good news: they were able to find the ring