Grading the Week: Mariners, Royals both earn high marks
Both the Mariners and Royals get an A for their great week, but which one gets the A+?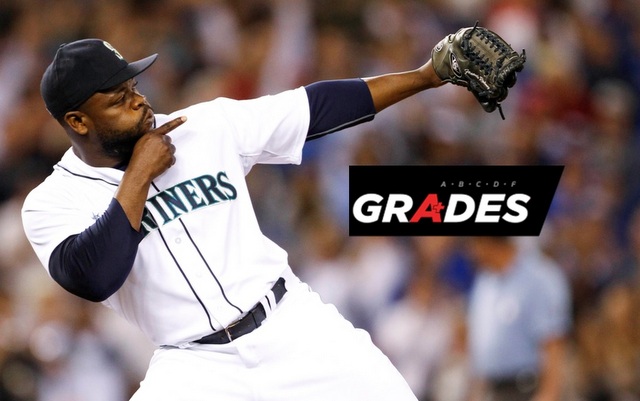 More MLB: Power Rankings | Expert Picks | Latest news & notes | Fantasy news
Another fantastic week of baseball is in the books. Say what you want about the two wild-card system being unfair or lame or whatever, but it has definitely made the postseason races heat up extra early in recent years.
As is the case every Sunday night, it's time to hand out some grades for the week that was. We try to stick to the usual A through F scale, but sometimes we bend the rules. Like this week. Also, we can't grade everything -- a lot of teams are deserving of A's and B's this week -- so apologies in advance if your favorite team or player is slighted. We try to go with the most interesting and deserving party each week. On to the grades.
| Team | Grade | Analysis |
| --- | --- | --- |
| | A+ | This was a week for the Mariners to make a statement, and make a statement they did. They swept the Blue Jays and took two of three from the Tigers, two teams they're battling for the second wild-card spot. Seattle outscored the Jays and Tigers 36-11 in the six games too. Naturally, the only game they lost was started by Felix Hernandez. Naturally. The Mariners went from 1.5 games back of the second wild-card to a half-game up this week. Beating up on two direct wild-card competitors is mighty impressive. |
| | A | The Royals started the week a half-game back of the Tigers in the AL Central and finished it 1.5 games up. Detroit's continued slide down the standings combined with the Royals going 5-2 these last seven days have Kansas City thinking division title and automatic ALDS berth. Forget the wild-card. We're only focusing on the last week, but it is worth noting the Royals are now 12-2 in their last 14 games. They're as hot as any team in baseball right now. |
| | C | This was a 4-3 week for the Cardinals that could have easily been a 6-1 week or a 1-6 week. They played three one-run games and four that ended after the losing team threatened and scored runs in the ninth inning. St. Louis went from two games back to three games back in the NL Central this week, though they still own the first wild-card spot with the same half-game lead. Not a great week, not a terrible week. A grade C week. |
| | D | I know they're without Gerrit Cole (lat) and Andrew McCutchen (rib) due to injury -- Cole will rejoin the rotation on Wednesday, by the way -- but man, going 2-5 and losing five straight is not a good look. Especially not when you're competing for a wild-card spot. In fact, the injuries are the only reason I'm cutting them a break and not putting Pittsburgh in the F spot. The Pirates had the lead in three of their five losses this week, including as late as the seventh inning in each of the last two losses, but the bullpen melted down both times. They're lucky they only went from a half-game up to 1.5 games back in the wild-card race. |
| | F | The Blue Jays came into this week five games back in the AL East and 1.5 games back of the second wild-card spot. They ended it seven back and four back, respectively. Toronto lost five of six games this week, including that sweep at the hands of the wild-card rival Mariners. They were outscored 40-20 overall and they had the lead in four of the five losses. The Jays are 4-11 in August and it's looking more and more likely they will miss the postseason for the 21st straight season. |
Show Comments
Hide Comments