Grading the Week: Mark Trumbo, Marlins both get an 'A'
The powerful Mark Trumbo and the high-scoring Marlins (no, really) both get an "A" for their work this week.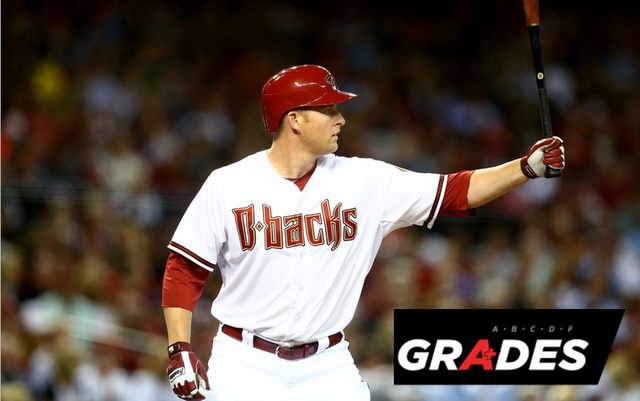 More MLB: Scoreboard | Standings | Probable Pitchers | Sortable Stats | Odds
The first full week of the 2014 regular season is over, so that means our weekly grades are making their triumphant return. The idea is simple: we hand out letter grades for the past week, usually A through F, but sometimes we bend the rules a little bit. We grade whatever we want -- teams, an individual performance, pretty much anything. Here are the first weekly grades of the new season.
Team
Grade
Analysis
A

For all the jokes about his defense and chronically low on-base percentage, few players in baseball have as much power as Mark Trumbo. The Diamondbacks' slugger went 9-for-26 (.346) with four home runs this week, and the four home runs came in four consecutive games. That ties the team record for long homer streak. Trumbo leads baseball in homers (five), runs batted in (13) and total bases (27) at the moment. For at least one week, the former Angel was baseball's premier power hitter. (Honorable Mention: Brandon Belt, who also whacked four homers this week.)

A
Break up those Marlins, man. Led by

Jose Fernandez

, who looks very much like the best pitcher in baseball right now, the Fish won five of seven games this week, scoring an MLB best 42 runs in the process. Forty-two runs! The Marlins! Giancarlo Stanton is mashing monster home runs, Casey McGehee has returned from Japan with a vengeance, and the bullpen is tossing up zeroes (two runs allowed in 22 1/3 innings). Miami is playing extremely well right now and they're a fun team to watch. That was certainly not the case a year ago.
B
I'm not giving a "B" to the Yankees as a team. This grade is for Masahiro Tanaka and Michael Pineda, the club's nominal No. 4 and 5 starters. No. 4 and 5 for 2014, at least. The Yankees are counting on these two to anchor the rotation for years to come. Both guys ran into some early-inning trouble in their debuts with the team -- remember, Pineda missed the last two seasons following shoulder surgery -- but settled down in about the third inning and were dominant the rest of the way. Their combined pitching lines: 13 IP, 11 H, 4 R, 3 ER, 0 BB, 13 K. That'll do. That'll do just fine.
C
The first official week of the new expanded replay system went ... OK. The calls were correct and that's most important thing, but the delays will take some getting used to. Really, it's not even the delay we have to adjust to. We're used to delays while managers argue, but now that time is being used by umpires on the horn with the replay center in New York. Manager arguments were more entertaining than the replay system, that's for sure. More calls are correct now and, in the end, that's all that matters.
D
I figured the Reds would have trouble scoring runs after losing Shin-Soo Choo in the offseason, but not this much trouble. Cincinnati went 2-4 this week, winning their two games by the score of 1-0 and 2-1. They've scored 15 runs total, the second fewest in the league (Padres). Choo's replacement, the speedy Billy Hamilton, was 0-for-12 with six strikeouts before hurting his finger. To make matters worse, he was thrown out in his only stolen base attempt. The Reds dropped two of three to both the division rival Cardinals and not-so-good Mets this week. It could have been worse, but it also could have been a lot better.
F
Specifically, the "F" goes to the Orioles' rotation. Before Chris Tillman twirled 8.1 innings of one-run ball on Sunday, the staff had an unsightly 7.56 ERA. They had four 1-2-3 innings in the first five games of the season. Think about that. Baltimore's rotation will better, at least I think it will, but this week? They're getting a big fat "F." Aside from Tillman, the starters didn't give the club much of a chance to win at all.
Show Comments
Hide Comments
Our Latest Stories
Umpires also use spring training to get back into game shape, you know

Braves catcher Matt Foley paid homage to an SNL character

Joe Nathan was one of the best closers of his generation. Now his career may be over
Can the Orioles finally break through and make a World Series with Buck Showalter?

The franchise catcher is in his walk year, and two sides appear open to a contract extensi...