Grading the Week: Orioles flying high
The Baltimore Orioles went 5-1 this week and lead the AL East. They got an A for the week. Who got the B, C, D and F?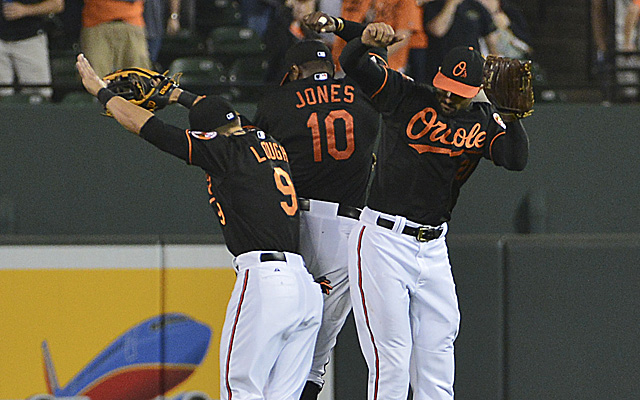 More MLB: Power Rankings | Expert Picks | Latest news & notes | Fantasy news
It's the weekly grades, where we subjectively throw out grades to five teams -- that is, hitting each of the five traditional letter grades once.
| Team | Grade | Analysis |
| --- | --- | --- |
| | A | The Orioles have run their lead in the AL East to 1.5 games now after a 5-1 week. Sure, taking two of three from the Astros isn't that impressive, but it's called taking care of business. Those series count just the same as against the good teams and the best teams don't falter when faced with an inferior foe. The Orioles also swept the Rays in three close games. In fact, they've been getting it done again -- just like in 2012 -- in close games. They are 9-3 in one-run games. It's Buck Showalter magic again, right? |
| | B+ | Don't look now, but the Diamondbacks have won three straight series and are 6-3 so far in May. As for this week, they won two of three from both the first-place Brewers and the White Sox. The D-Backs fail to record an A here because the two losses were the brutal/D-Backs-in-April types, losing 8-3 Monday and 9-3 Friday. The rest of the week, though, they were very good, even grabbing a late, come-from-behind victory in Milwaukee on Tuesday. Special mention to Miguel Montero for getting on base five times Sunday, which was by way of a single, homer, two walks and a hit-by-pitch. |
| | C | The Marlins started the week unbelievably well. They won three at home against the Mets, a series that included a late comeback from a three-run deficit in the opener. They then won in extra-innings Thursday in San Diego thanks to a Giancarlo Stanton home run in the 11th inning. They proceeded to be outscored 24-8 in the next three games by the Padres, though, all losses. A late surge Sunday prevented a third straight blowout loss, but it was a loss nonetheless. So, in all, it was a 4-3 week, but the Marlins get a C here because they need to prove they can win road games. They are now 3-13 on the road. |
| | D | They started things off by taking two of three from the Dodgers at home. They ended the week by being embarrassed in Oakland, getting outscored 21-4 in three games. There was also the incident with Gio Gonzalez screaming at someone in the dugout after he was shelled against his former team. With three of their best hitters -- Ryan Zimmerman, Bryce Harper and Adam LaRoche -- now on the DL, it's time for the rest of the team to pick up the slack. That didn't happen in Oakland. |
| | F | They went 2-5 in the week and four of the losses were by at least five runs. After jumping out to a 14-8 record despite a spat of injuries, they're now sitting evened up at 19-19 and it's entirely possible they're the fourth-best team in the AL West -- in other words, only better than the Astros. That's not a good look. |
Show Comments
Hide Comments
Our Latest Stories
The franchise catcher is in his walk year, and two sides appear open to a contract extensi...

The good news is that an MRI showed no structural damage
He was re-assigned to minor league camp on Sunday

Brian Havrilla has done important work

Young Brody Chernoff, son of Mike Chernoff, was a guest in the Indians' radio booth recently,...