Grading the Week: Rangers get a well-deserved F
There are only two weeks and three sets of grades left in the 2013 season. Here's a look back at the week that was.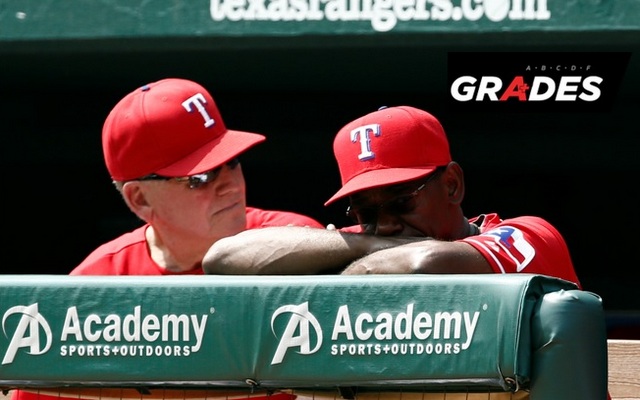 More MLB: Scoreboard | Standings | Probable Pitchers | Sortable Stats | Odds
Just about everyone has gone back to school by now, but baseball's semester is coming to an end. The regular season ends two weeks from today and not one playoff spot has been clinched. A few of those figure to come off the board this week, but others will go right down to the wire.
As a reminder, our grades apply only to this past week and it's one team per grade rather than one grade per team. That would be rather tedious. On to this week's marks:
| Team | Grade | Analysis |
| --- | --- | --- |
| | A | When the week started, the Athletics had a 1.5-game lead in the AL West. Not exactly comfortable but better than the alternative. When the week ended, the division lead had swelled to 6.5 games. Oakland took two of three from the Twins before going into Texas and pushing the Rangers around for three games, making a second straight AL West crown a foregone conclusion in the process. The A's have won eight of their last nine games and 16 of their last 20 games overall, but that really doesn't matter for our grades. The most important thing is that they won five of six games this week and took full control of the division. Fantastic week for manager Bob Melvin's club. |
| | B+ | Give the reigning NL East champs credit, they're playing well and making some noise in the NL wild-card race late in the season. They swept four games from the Mets in Citi Field earlier this week -- outscored them 25-5 in the process -- before taking two of three from the Phillies at home this weekend, moving Washington to within 4.5 games of the Reds for the second wild-card spot. That is still a pretty big deficit with only two weeks left in the season, but the Nationals could have easily closed up shop and gone into hibernation about two months ago. Props to them for battling right to the end. |
| | C | This was a big week for the Royals. They were 3.5 games back on Monday morning before playing three games against the Indians, one of the many teams they're chasing. They took two of three that series to climb to within 2.5 games, but then they lost two of three to the Tigers over the weekend. They now sit ... 3.5 games back of the wild-card spot. The 3-3 week leaves them right back where they started. That is a quintessential grade-C performance in my book. |
| | D | Before the Nats made their little run, the Reds were pretty well locked into a playoff spot. They closed to within 1.5 games of the NL Central lead last weekend and had a golden opportunity to make up ground this week with three games each against the lowly Cubs and Brewers. Instead of continuing their run, they lost two of three in each series and finished the week 3.5 games back in the division. To make matters worse, they blew a four-run lead on Sunday. Losing ground in the standings while playing two of very worst teams in baseball makes for a bad week, even if you remain in playoff position with a decent lead. |
| | F | It's hard to overstate how awful the Rangers were this week. They didn't just go 0-6 with an off-day mixed in, it was first winless homestand of at least six games in franchise history. It was also the first time in team history they played six straight games at home and did not hit a single home run. The AL West race is essentially over after Texas got swept by the A's this weekend, a three-game series in which the Rangers never once held a lead. According to Cool Standings, Texas went from having a 91.9-percent chance to make the postseason on Monday to having a 58.1-percent chance on Sunday. Ouch. The "they blew the World Series in 2011, blew the AL West in 2012, blew a wild-card spot in 2013" narrative is mighty strong with this one. |
Show Comments
Hide Comments