Grading the weekend series: Indians rolling to top of AL Central
It's grading the weekday series, where we grade things. Included in this edition: Indians, Marlins, Royals, Blue Jays, Diamondbacks.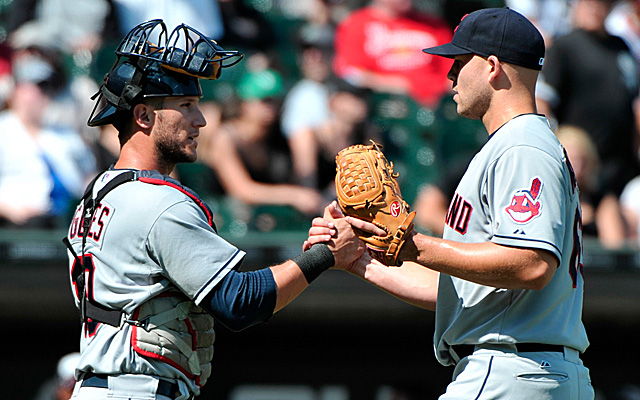 More MLB: Scoreboard | Standings | Probable Pitchers | Sortable Stats | Odds
It's that time again. We'll just do one team per traditional letter grade based upon the weekend series (plural!). In doing so, not every team gets mentioned and there are three teams who deserved an A this weekend that didn't get one.
First of all, the Pittsburgh Pirates are the best team in baseball and have now won nine in a row. Seeing as how I had them as the subject of my power rankings -- in which they were ranked first -- I'll look elsewhere for the sake of variety.
Also, the Los Angeles Angels , Atlanta Braves and Baltimore Orioles swept their respective series. Call them honorary A students.
As for what's left ...
Team
Grade
Analysis
A
The four-game sweep over the

Chicago White Sox

was impressive, even though Chicago is 8-24 since May 26. Taking down the easy opponent is mitigated, however, by the

Cleveland Indians

ascending to the top of the division, as they are now tied for first in the AL Central with the

Detroit Tigers

. Yes, being tied means the Indians are at "the top" of the division. They're just not alone.
B+
The took two of three from the

San Diego Padres

, capping it off with a

Jeff Mathis

walk-off grand slam. And after winning only 14 games combined in April and May, the

Miami Marlins

won 15 in the month of June.
C
The

Kansas City Royals

pushed all their chips to the center of the table this season when they sent a good prospects package to the

Tampa Bay Rays

for

James Shields

and

Wade Davis

. And with the Tigers struggling, being in playoff contention is there for the taking. Splitting with the

Minnesota Twins

is just not good enough, so it's an average grade for what appears an average-at-best ballclub.
D
After an 11-game winning streak, the

Toronto Blue Jays

faced a huge test in a seven-game road trip to Tampa Bay and Boston. They went 2-5 and fell down to 8.5 games behind the

Boston Red Sox

in the AL East. They're still in contention, but this past week was a huge step backward.
F
They were swept in three games by the Braves and outscored 20-7. And they've let the entire NL West get within four games of them as the Snakes have only won five of their past 15. The bright side is only the team that has been in last place played well this past week, but the D-Backs really need to get things together or they'll be out of first before the All-Star break.
Show Comments
Hide Comments