Grant Balfour changes course, sounds angry with Orioles
Grant Balfour called Orioles' GM Dan Duquette to tell him the Orioles were making a mistake in backing out of the agreed-upon two-year, $15 million deal.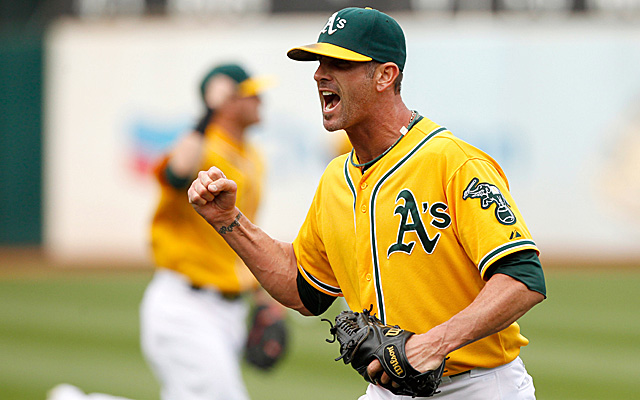 MORE: FA tracker: position players | FA tracker: pitchers
The ongoing saga of Grant Balfour's contract with the Orioles falling apart has taken another turn.
Earlier Friday, Balfour told Susan Slusser of the San Francisco Chronicle that he didn't want to bad mouth the Orioles and that there were no hard feelings.
A few hours later, things appear to have changed. The fiery closer actually called Orioles general manager Dan Duquette:
Grant Balfour called me back to say he called Dan Duquette to tell him the #Orioles were making a mistake. #Athletics

— Susan Slusser (@susanslusser) December 21, 2013
And then:
Balfour told me he told Duquette that he deserves to be treated w/ respect and he was not & #Orioles just lost their best chance at winning.

— Susan Slusser (@susanslusser) December 21, 2013
Balfour went on to tell Slusser he pointed out to Duquette that two doctors said he was healthy -- as we noted earlier.
Now, none of these comments seem overly inflammatory and it doesn't appear Balfour was out of control. Then again, we weren't on the phone and this is Balfour's side -- and one has to be pretty angry to change his mind so quickly from "taking the high road" to and calling the GM who backed out of a signing, right?
One thing is for sure, if and when Balfour squares off against the Orioles this year, it's likely to provide great theater. He's already the most intense closer there is, and the guess is he'll take it up another notch against them.
Show Comments
Hide Comments