Greinke meets with Rangers; rivals see money, park giving Dodgers edge
Texas quietly met with top free agent pitcher Zack Greinke recently, and the Rangers are hoping their recent winning ways could offset a potential dollar difference,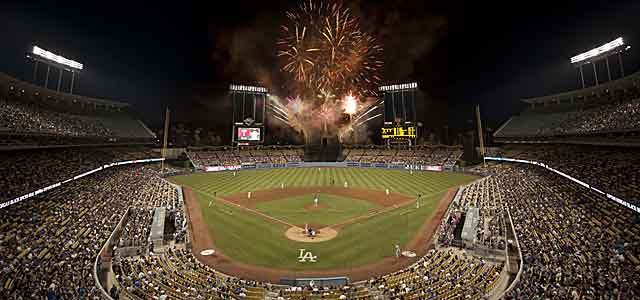 The lure of Dodger Stadium, and his affinity for hitting, could make LA more attractive for Greinke. (US Presswire)
NASHVILLE, Tenn. -- The Rangers, hoping to lure top free-agent target Zack Greinke with their winning ways and strong roster, recently met with the pitcher, sources said.
More on free agency
Stories
The Dodgers, who met with Greinke within the past few days, as Tim Brown of Yahoo first reported, are considered the favorite because of their vast resources.
"They have more money than they know what to do with, but they're going to try to spend it," one rival executive said of the Dodgers' intentions.
The Angels also reportedly met with Greinke, while the Nationals are viewed as another potential contender.
Greinke's reputation has been all about winning (he turned down a $100 million offer from the Nats on a proposed trade two winters ago because he had concerns about how soon the club would to win), and that's what Texas is counting on. The Rangers once offered Cliff Lee a contract for about $120 million over six years, and it's not hard to imagine them being in that range for Greinke, but executives on other teams suggest they won't be shocked if the Dodgers go to $140 million or more for Greinke.
Greinke isn't believed to have named a figure, but it is thought he and agent Casey Close won't be shy about using Cole Hamels' $144-million, six-year deal as one obvious comp. While Hamels is a bit more accomplished than Greinke, Hamels wasn't a free agent when he signed to remain with Philadelphia.
The Dodgers could have a couple other edges in the derby, as well. Greinke likes to hit, so a National League team could be extra attractive. Also, Dodger Stadium is more pitcher-friendly than Texas' ballpark.
Show Comments
Hide Comments