Hacked internal documents reveal recent Astros trade discussions
An internal Astros database has apparently been hacked, and there's much to be found when it comes to trade discussions.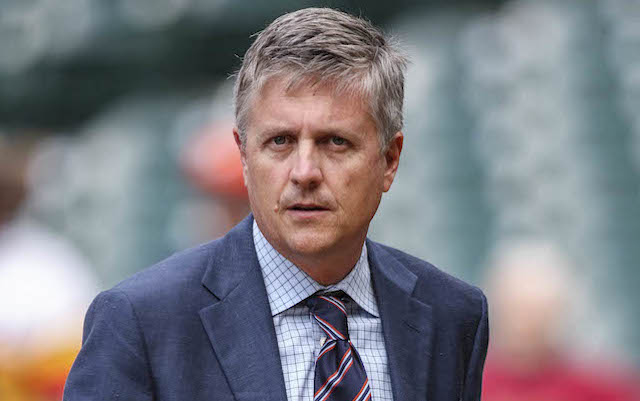 More MLB: Power Rankings | Expert Picks | Latest news & notes | Fantasy news
The Astros' in-house database known as "Ground Control" was apparently hacked into, and out came oodles of information when it comes to trade discussions in the recent past -- specifically, around last year's trade deadline and this past offseason. You can hop over to Anonbin for a full vetting. 
Among the more interesting highlights:
- The Astros asked for Dylan Bundy of the Orioles as part of the Bud Norris deal that eventually sent L.J. Hoes, Josh Hader and a draft pick back to Houston.
- The Astros also asked for Xander Bogaerts of the Red Sox as part of a Bud Norris deal, which is perhaps more absurd than asking for Dylan Bundy.
- The Astros and Marlins had at least cursory discussions about a blockbuster involving Giancarlo Stanton. The Astros wanted him in exchange for Jarred Cosart and Delino DeShields. The Marlins wanted George Springer and Carlos Correa. 
There's more, of course, and, if the contents are indeed genuine, then it's a pretty compelling peek behind the curtain of what's shaping up to be one of MLB's top front offices. 
The Astros, meanwhile, have gotten MLB and the FBI involved. They intend to prosecute. Here is the team's statement:
"Last month, we were made aware that proprietary information held on Astros' servers and in Astros' applications had been illegally obtained. Upon learning of the security breach, we immediately notified MLB security who, in turn, notified the FBI. Since that time, we have been working closely with MLB security and the FBI to the determine the party, or parties, responsible. This information was illegally obtained and published, and we intend to prosecute those involved to the fullest extent.

"It is unfortunate and extremely disappointing that an outside source has illegally obtained confidential information. While it does appear that some of the content released was based on trade conversations, a portion of the material was embellished or completely fabricated."
Something tells me it's probably pretty tense around Astros HQ today.
(Wink of CBS eye: Deadspin)
Show Comments
Hide Comments